Thursday (Oct16) South Carolina Ports Authority (SCPA) reported a 7.5 percent fiscal year-over-year container volume growth of twenty-foot-equivalent units (TEUs) through September. 
SCPA has handled 580,361 TEUs since July, compared to 539,995 TEUs during the same period last fiscal year. The Port moved 173,226 TEUs in September.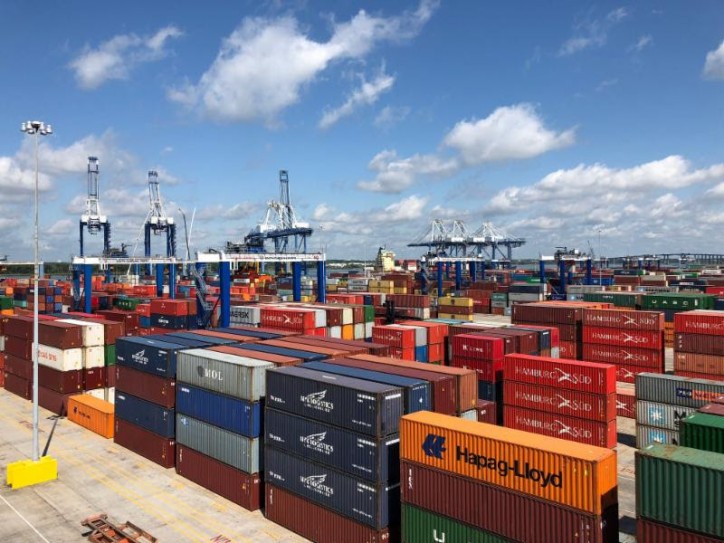 "SCPA's fiscal year-over-year growth reflects a very positive start to our 2019 fiscal year," said Jim Newsome, SCPA president and CEO. 
As measured in pier containers, or boxes handled, SCPA moved 98,462 containers across the docks of its two container terminals last month, bringing fiscal year-to-date pier container volume to 329,796.
In breakbulk, or non-containerized cargo, Charleston handled 48,952 pier tons. Within the breakbulk business segment, SCPA moved 17,062 vehicles across the docks of the Columbus Street Terminal last month.
Inland Port Greer handled 8,890 rail moves in September, pushing fiscal year-to-date volume to 30,670 rail lifts at the facility.
Board Action
In action items, the Board awarded a $3.2 million contract to L-J Inc. for the creation of 22 acres of salt marsh on the southern tip of Drum Island. Work on the project is expected to begin next month and will restore salt marsh, vegetation and tidal creeks on the site, previously utilized as a dredged material containment area.
The Board approved plans to purchase a Container Crane Training Simulator which will realistically simulate operations of the Port's ship-to-shore cranes (STS) and rubber-tired gantry (RTG) cranes.
The Board also approved the promotion of Barbara Melvin, Senior Vice President of Operations and Terminals, to Chief Operating Officer effective January 1, 2019. Barbara has been with the Port for 20 years serving in previous capacities such as Senior Vice President of External Affairs, and Vice President of Government Relations.
Source: SCPA