The upward trend of the 2018 St. Lawrence Seaway shipping season continues, driven by Canadian grain exports and improving salt shipments.
Overall tonnage for the period March 29 to September 30 totaled 25.7 million tonnes, up 4.1 per cent when compared to 2017. Canadian grain shipments topped 5.1 million tonnes for the period, up 11.6 per cent.  Salt shipments totaled 1.9 million tonnes, significantly improving after the strike at the Compass Minerals Goderich mine ended in July.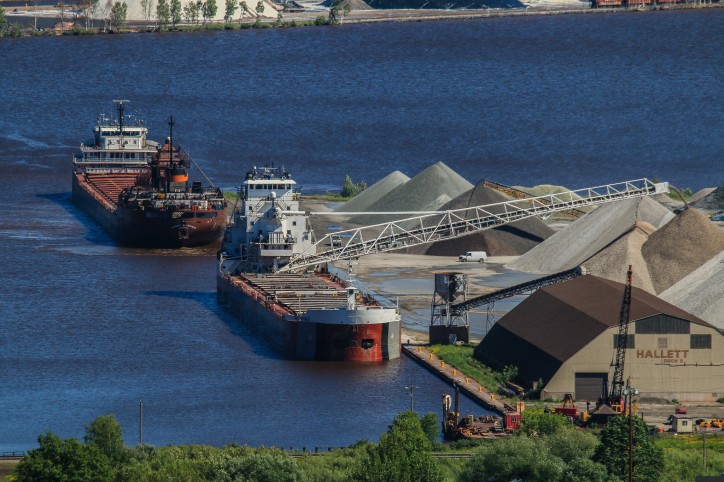 "Exports of grain from last year's harvest continue to drive increases in Seaway tonnage, and we expect to have a strong finish to the year as the new harvest is added to the mix," says Terence Bowles, President and CEO of The St. Lawrence Seaway Management Corporation. "Furthermore, cities across the Great Lakes-St. Lawrence region are replenishing their stocks of road salt after last year's lengthy winter, adding to the upswell in cargo volumes."
The Port of Hamilton is on pace for a very successful shipping season. Total cargo through September is up 18 per cent compared to the same time period last year. Hamilton is seeing strong numbers in shipments of grain (up 109 per cent), petroleum products (up 40 per cent), finished steel (up 38 per cent), metallurgical coal (up 25 per cent) and fertilizer (up 11 per cent).
The Port of Hamilton has also seen a dramatic increase in the volume of cargo that is going overseas.
"Overseas cargo is trending 81 per cent higher than the same time period in 2017," said Ian Hamilton, President/CEO of the Hamilton Port Authority. "We think this is a very good indication that when there is a need to diversify, Canada is ready to leverage its trade-enabling infrastructure to reach new markets."
The Port of Johnstown has welcomed salt shipments from several ocean-going vessels in September. The Port had three international vessels deliver 65,000 metric tonnes of salt and are expecting two more as the salt companies try to reach their quotas.  Road salt from the port is distributed to cities and towns throughout Eastern Ontario and Western Quebec.
"Overall for the year, we are currently two to three vessels behind last year at this time, however, we believe that this will be made up in the late fall," says Robert Dalley, General Manager of the Port of Johnstown. "For the month of September, the Port shipped out 6,800 tonnes of grain as the soybean harvest started to kick in at the end of the month. Overall for the year we have had almost 60,000 tonnes of soybeans shipped out as compared to 5,000 tonnes in 2017. This was mostly due to the soybeans that were stored at the Port over the winter and moved in the spring." Dalley adds that the soybean harvest looks strong at this point in the season with a steady stream of vessels so far in October.
The Port of Johnstown recently completed a 6.5-acre expansion project allowing more laydown area for various cargos. The project also improves the Port's ability to load rail cars with an additional 500 feet of rail siding now accessible.
The Port of Thunder Bay is reporting average volumes of cargo this season, including just over 5.4 million tonnes of cargo this season, compared to the five-year-average of 5.3 million tonnes.
"Shipments in September were slightly below average due to lower coal, potash and grain volumes." says Tim Heney, President and CEO of the Thunder Bay Port Authority. "Year-to-date grain volumes hovered at the five-year-average level at the end of September, while coal and potash volumes remained above-average. Quorum Corp., Canada's grain monitoring agency, recently reported that grain car unloads are below average at both of Western Canada's top grain ports, Thunder Bay and Vancouver. Despite the dip in shipping during September, there is optimism that the Port will end the season with similar volumes to last year."
The shipping season at Thunder Bay was cut short in 2017 when frigid temperatures caused an early ice-over in mid-December.
For cruise shipping on St Lawrence Seaway see at CruiseMapper
Source: Chamber of Marine Commerce