U.S. Coast Guard and Alaska authorities are constantly near the 65-foot fishing vessel that grounded near Shoup Bay, four miles west of Valdez 2 days ago.

The owner of the fishing tender, Fate Hunter is helping the Coast Guard Marine Safety Unit Valdez and State of Alaska personnel in order to prevent environmental disaster and for the refloating of the of the vessel.

The signal for the grounding is sent by the crew members. First responded to the signal for help was the fishing vessel Akemi that was near the location of the incident and helped for the transportation of the 4 people on board the grounded fishing tender.

The good thing in the whole story is that there are no injuries reported or serious damage of the fishing vessel.

Lt. Keyth Pankau, response department head, Marine Safety Unit Valdez informed:
"With the crew of the Fate Hunter safely ashore, the Coast Guard's priority is the safety of responders and preserving the integrity of the marine environment in Port Valdez.We are working closely with Alaska Department of Environmental Conservation to monitor response efforts."

The fishing tender Fate Hunter was transporting at the time of the incident near 1,500 gallons of diesel, 300 gallons of hydraulic oil, 100 gallons of lube oil, and 150,000 pounds of fish.
The Fate Hunter is homeported in Astoria, Oregon.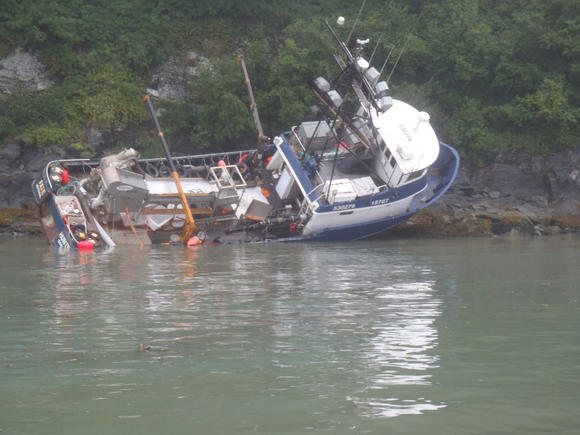 Photo: U.S. Coast Guard