The number of cruise passengers travelling via Ports of Stockholm is continually rising, and has set a new record again this year. During the cruise season 268 vessels called at Ports of Stockholm (see also CruiseMapper), with a maiden cruise call this year at the Port of Kapellskär.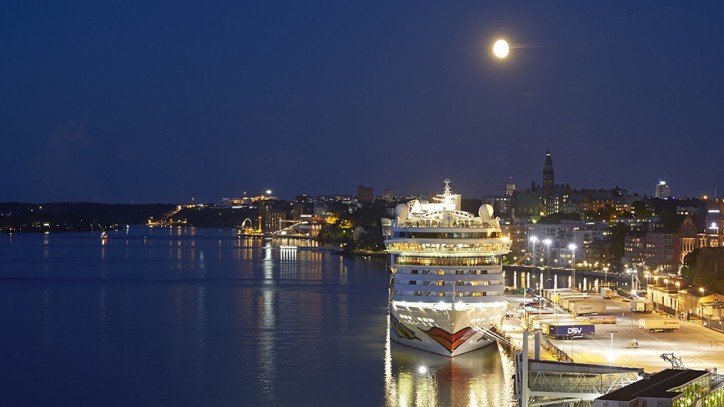 The 2018 cruise season ended on 18 October with the arrival of the AidaMar at Stadsgården. A total of 619 000 cruise passengers visited Ports of Stockholm during the season.
"Stockholm is an extremely popular destination and passenger numbers are greater than ever before. The majority of visitors are American and German, and the third largest group comes from the UK," explains Stefan Scheja, Cruise and Ferry Manager at Ports of Stockholm.
Over the course of the international cruise season, which runs from April until October, 268 cruise ships have called at Ports of Stockholm. Of these, 67 cruise ship calls were what is known as turnarounds, with passengers beginning and/or ending their cruises in Stockholm. Passengers then often spend an extra day and night on land, which benefits the tourist industry even further. During the season an independent international survey has been carried out at several cruise ports. The results of this survey will be presented in detail later in the autumn and will include information such as how much the visitors spend.
"Cruise passengers are very important to the Stockholm region and generate a huge amount of revenue through restaurant visits, overnight hotel stays, shopping, museum visits and much more," says Stefan Hansson, Chair of the Board at Port of Stockholm.
In September the Port of Kapellskär saw its first ever cruise ship call. One of the world's largest cruise liners, the MSC Meraviglia, visited Kapellskär and 3500 guests travelled to Stockholm and Norrtälje by bus.
International cruise traffic at Ports of Stockholm
| | | | | | |
| --- | --- | --- | --- | --- | --- |
| * = estimated |  2018* |  2017 |  2016 |  2015 |  2014 |
|  Cruise calls |  268 |  263 |  230 |  247 |  264 |
|  - turnaround calls  |  67 |  73 |  57 |  53 |  42 |
|  Passengers |  619,000 |  600,000 |  490,000  |  530,000 |  467,000 |
Environmental facts about cruise ships at Ports of Stockholm
At Ports of Stockholm vessels can offload black and grey water, or in other words sewage from showers, toilets and galley wastewater. Offloading of sewage is included in the harbour dues and wastewater management facilities are available at all quay-berths in Stockholm. In recent years 80 percent of cruise ships have offloaded sewage at Ports of Stockholm and the vessels also often have their own water purification facilities aboard.
The offloading of waste is also included in the harbour dues, and vessels that offload sorted waste pay a reduced tariff.
International environmental facts
The international regulations for the discharge of sewage into the Baltic Sea will be more stringent from 2019 onwards for new vessels, and from 2021 onwards for existing vessels. The ban on sewage discharge means that all passenger vessels must either offload their sewage when in port or must be equipped with approved purification capabilities of a higher standard than those of the present day.
Since more stringent regulations for sulphur emissions came into effect in the Baltic Sea the amount of sulphur emissions from vessel traffic in the area has significantly reduced. For example, vessels must use fuels with a low sulphur content, scrubbers or run on LNG. Since 1 January 2015 the limit for permissible sulphur amounts in vessel fuel is 0.1 percent in the Baltic Sea, the North Sea and the English Channel (SECA area). Outside the SECA area sulphur levels currently may not exceed 3.50 percent by weight, but these requirements will also soon be made more stringent.
Efforts are also ongoing for more stringent emission requirements for nitrous oxide and carbon dioxide.
Source: Port of Stockholm