Early Friday morning on August 9th, 2013 the
world's largest ship
Mærsk Mc-Kinney Møller
made its 1st ever transit through the
Suez Canal
. After a few days, the first Triple-E ship of Maersk Line passed the
straits of Gibraltar
and is now in the North Atlantic, safely sailing towards its final destination in Northern Europe.
Opened for traffic in 1869, the Suez Canal is the oldest human-made canal in the world in a place, which has been at the centre of global trade for millennia. The idea of linking the River Nile with the Red Sea goes back as far as the 19th century B.C.
Currently, the Suez Canal is one of the busiest and most important locations for shipping with almost 7,5% of world trade going through. Under international treaty, it can be used "in time of war as in time of peace, by every ship of commerce or of war, without distinction of flag." The company of Maersk Line is a regular visitor, currently sending an average of 27 container vessels through Suez every week.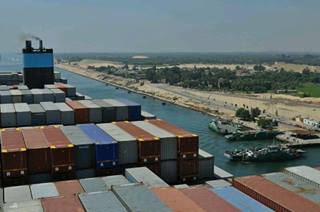 The Suez Canal is too narrow for vessels to pass each other, so all vessels enter through convoys on schedule. There is 1 northbound and 2 southbound sailings every day, with the southbound convoys anchoring in by-passes to let the northbound vessels pass. It usually takes around twelve and sixteen hours for a vessel to go through the Suez Canal.
The northbound convoy starts at 06:00 a.m. local time. The world's largest ship
Mærsk Mc-Kinney Møller
was boarded by the pilot at 04:45 a.m., entered the Suez Canal in its reserved space. The Suez Canal Authority (
SCA
) Chairman and SCA officials also joined the ship to celebrate the occasion.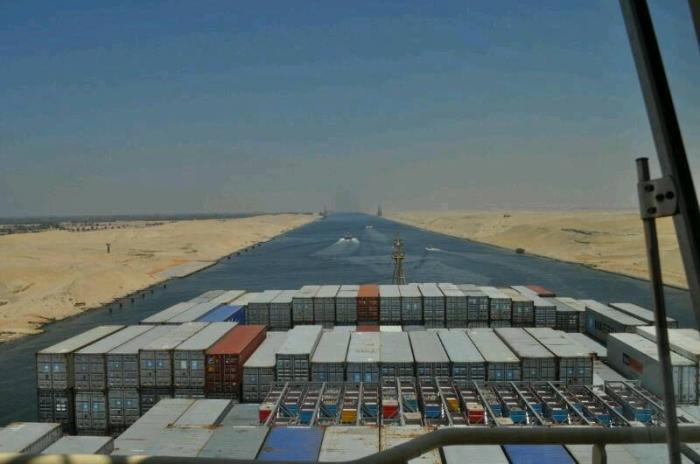 "We all received a cake from the SCA Chairman that we had on the bridge after lunch," wrote the captains on their blog at maersklinesocial.com. "A very good cake indeed."
The world's biggest ship Mærsk Mc-Kinney Møller is scheduled to reach the
port of Rotterdam
on 16th of August, 2013.