Yesterday the U.S. Army Corps of Engineers (USACE) announced $41.4 million for the Charleston Harbor Deepening Project in the Fiscal Year 19 Work Plan, funds that will further the progress of deepening the Charleston Harbor to 52 feet.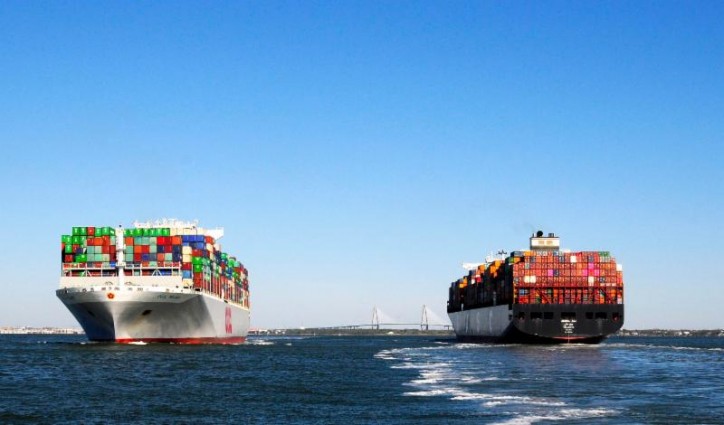 "Today's funding news is tremendous for the continued construction activities for the Charleston Harbor Deepening Project," said Bill Stern, SCPA Board Chair. "The Port is grateful to the Trump Administration, Senator Graham, Governor McMaster, and the entire South Carolina Congressional Delegation for the continued support and tireless efforts to again ensure the highest funding possible was included in the Work Plan. The unanimous support across all levels of government is greatly appreciated and has been critical in keeping this project moving at every turn."
Construction to deepen the Charleston Harbor Entrance Channel began in February following the awarding of the first two dredging contracts, totaling approximately $300 million, by USACE.
"By 2021, the Port will achieve 52 feet of depth making it the deepest harbor on the East Coast, an advantage that will add significant capability in the Southeast, the fastest growing region in the country," said Jim Newsome, SCPA president and CEO. "This depth advantage is vitally important for significant long-term volume growth and the deployment of large container ships. We are very grateful for the dedication and hard work by many to keep this project moving forward at record speed."  
Completion of harbor deepening projects is essential, with multiple 14,000 twenty-foot equivalent container unit (TEU) ships calling U.S. East Coast ports today and the strong likelihood that an 18,000 TEU ship service will be deployed by 2019. The ability to fill these large container vessels with heavy export cargo in the Southeast is critical and requires harbors of 50 feet or more in draft to remove navigation restrictions. Upon completion of Charleston's deepening, the Inner Harbor will offer 52 feet of depth with a 54-feet Entrance Channel.
The USACE Work Plan funding brings the total federal funding to $108 million. The state of South Carolina has set aside a total of $350 million towards the project, including a $50 million loan earlier this year. Last month, the US Army Corps of Engineers completed an updated Benefit Cost Ratio (BCR) of 3.1, which meets requirements for inclusion in the President's Budget. The project was designated a "new construction start" in the USACE FY 2017 Work Plan, and was authorized by Congress in December of 2016.
Quotes from South Carolina Elected Officials: "South Carolina's growing economy is driven by one of the most productive ports systems in the country, and today's news shows that President Trump's administration, and all of Team South Carolina, is committed to seeing it continue to strengthen. This $41 million is an investment in our entire state's future. When companies see that we are committed to our infrastructure, they have reason to be more confident in their investment in our communities, which means more jobs for our people. The Charleston Harbor becoming the deepest on the east coast will one day be seen as one of the most impactful moments in South Carolina's prosperous economic future." - South Carolina Governor Henry McMaster

"Charleston Harbor deepening is about jobs – both today and in the future. With this news we are one step closer to having the most dynamic port in the United States. I want to thank Jim Newsome and his team at the Port for putting together a great plan. I also want to thank the U.S. Army Corps of Engineers and the Trump Administration for helping push this project forward. Port deepening remains a top priority for me and will continue to be until it is complete." - U.S. Senator Lindsey Graham

"The Port of Charleston supports thousands of business and jobs across our great state — in fact, 1 out of every 11 jobs in the Palmetto State is port-related. I am pleased to see that the Army Corps Work Plan has allocated $41 million for the port and I look forward to continuing to advocate for one of our most integral job producers in South Carolina."  - U.S. Senator Tim Scott
Source: SCPA