Five North East ports are to pilot a range of innovative digital solutions to boost trade and tourism, stimulate renewable energy and foster economic growth.
The Smart Port North East Testbed will see the Port of Berwick, Port of Blyth, Port of Sunderland, Teesport and Port of Tyne collaborate with digital and industry experts, academia, regional authorities and port users on satellite-based solutions and digitisation initiatives.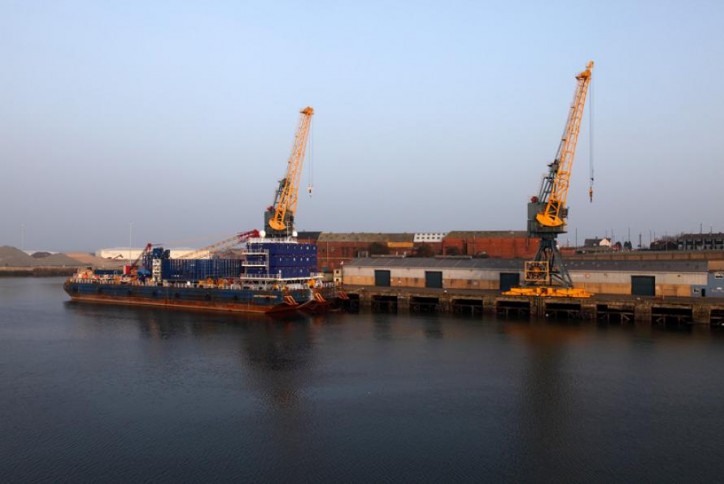 It is the first initiative of the Situational Awareness Information National Technology Service (SAINTS) which was recently launched by the North East Satellite Applications Centre of Excellence and a group of innovative companies to use data from satellites and Earth-based sensors to solve major problems facing businesses, governments and communities.
SAINTS brings together experts from business, universities and the public sector to use artificial intelligence to harness data and develop solutions for pressing challenges facing the country.
The North East is an ideal location for the testbed, with the local economy strongly connected to the ports and a tight-knit business community acting as the perfect catalyst for collaboration. The ports recognise their position in the local economy and are keenly aware of the need to embrace new technologies to keep pace with emerging trends in global international trade.  The North East also boasts a strong and growing space cluster, driven by the North East Satellite Applications Centre of Excellence, operated by Business Durham, the economic development organisation for County Durham, and based at the region's only dedicated technology park, NETPark in Sedgefield.
Catherine Johns, Innovation Director at Business Durham said: "Ports play a vital role in the regional and national economy, providing trading gateways to the rest of the world, with a massive impact on local supply chains and communities. The Brexit negotiations have put into focus just how important they are.
"The launch of SAINTS illustrates the important role the region's fast-growing satellite and space sector can play in finding solutions to local issues and developing them to solve global problems in a sustainable way. The test bed provides an opportunity to pool the knowledge built up in one of our longest established industries with that of one of our newest."
The digitisation initiative will test scalable satellite-based smart solutions to transform the operational environments to achieve four key outcomes for the ports: new business opportunities and hinterland engagement; boosting the growth of green energy and low carbon solutions; improved customer experiences; operational excellence and security in and around the port.
Benefitting from its position of the Northumberland Coastal Area of Outstanding Natural Beauty, Port of Berwick will trial smart solutions to enable closer collaboration between the port and its hinterland, including boosting the local economy through a greater focus on tourism. As such it will take the lead on tourist gateway initiatives.
Home to the UK's first offshore wind farm, the National Renewable Energy Centre and the Offshore Renewable Energy Catapult, Port of Blyth will capitalise on the growing hub of renewable energy, offshore and subsea companies based in and around the port. Trialling initiatives related to renewable energy, reducing waste and low carbon solutions, Blyth will secure its reputation as a green port pioneer and will lead in this area.
Understanding expectations of the port's freight clients, many of whom are Scandinavian based and striving to meet the highest standards in sustainable practices, Port of Sunderland will pilot solutions to improve operations, processes and transparency and lead on improved customer experience.
As the largest port in the region, Teesport (operated by PD Ports) will test solutions to boost operational efficiency in logistics and warehousing processes, moving cargo from the port area to supply chains and wider logistics networks as rapidly as possible. Teesport operates eight weekly sailings to Rotterdam (NL) and six to Zeebrugge (BE) per week, and knowledge from the Innovation Dock at Smart Port Rotterdam will be used to help inform identification of solutions and applications across the North Sea in the North East of England. As such it will lead on operational efficiency initiatives, together with Port of Tyne. The only passenger ferry service from the North East to mainland Europe sails from Port of Tyne on the daily Newcastle to Ijmuiden (NL) route, operated by DFDS. Passenger safety, security and efficiency is an integral part of the user experience at the port.
The test bed will harness technologies such as artificial intelligence, data analytics, unmanned marine vessels, and airborne drones to enable ports to become more "intelligent" and examine ways of speeding up trade, increasing efficiency and reliability, reducing costs, tracking cargo, improving security and protecting the environment.
Source: Port of Sunderland