Suez Canal Authorities informed that Egypt cannot ban passage of the U.S. warships because of the 1888 Constantinople Convention of the Suez Canal. Egypt had signed the convention and the country could not deny access of the U.S. warships.

The Constantinople Convention from 1888 says:
"The Suez Maritime Canal shall always be free and open, in time of war as in time of peace, to every vessel of commerce or of war, without distinction of flag.

Consequently, the High Contracting Parties agree not in any way to interfere with the free use of the Canal, in time of war as in time of peace. The Canal shall never be subjected to the exercise of the right of blockade."

U.S. military vessels passing through the Suez Canal will take part in perspective military operation against Syria.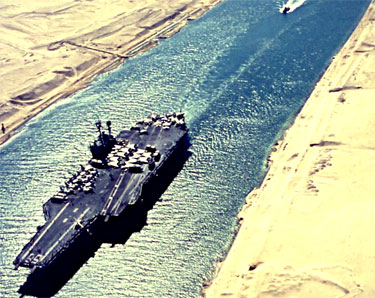 Mohab Mamish, chief of the Suez Canal Authority said:

"Taking the decision to ban U.S. vessels or any ships going to take part in military actions against Syria will be taken as pretext for interference within Egypt's local affairs to hinder crossing through the international navigational canal, which violates the international agreements. It's a trap that we will not get caught in."

Coalition of countries, lead by the U.S., prepare for military strike against Syrian leader Bashar al-Assad for alleged use of chemical weapons in his operations against opposition in Damascus last month when a lot of people including children were killed. International decision is divided between the U.S. which postponed the strike until the Congress votes on it and the British parliament which rejected the strike.