The 18,000-TEUs container carrier
Maersk Mc-Kinney Moller
has blazed a trail of record productivity as the world's biggest vessel has visited a number of container terminals in the
APM Terminals
network.
Resent example for this was a visit to
port of Tangier
at Morocco's Tanger-Med port facility, where a ship record of 7804 TEUs was handled during the port call of the world's largest ship Maersk Mc-Kinney Moller. While at Tanger-Med port facility, a productivity level of 29 moves per hour was recorded while working the biggest ship in the world.
With 800-metres of quay, a 16-metre depth and 8 super post-Panamax cranes at the port facility, APM Terminals Tangier is one of the select facilities in the area, which is able to accommodate the latest generation of ultra-large container vessels of 18,000 TEUs and even greater capacity than this of the world's largest ship. Other APM Terminals facilities, which are equipped for EEE-class ships and with recent visits and productivity records include port of
Rotterdam
, the Netherlands;
Aarhus
, Denmark; and
Gothenburg
, Sweden.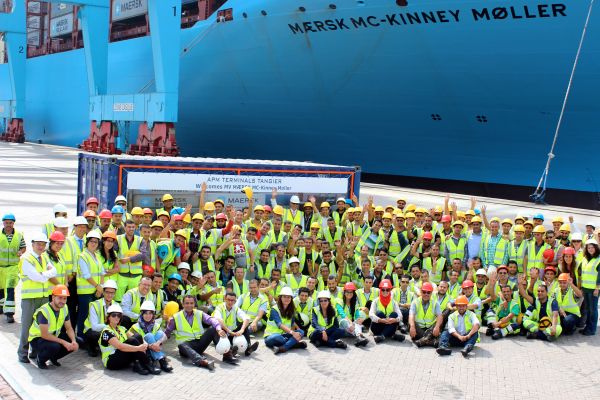 "The Straits of Gibraltar are some of the greatest maritime crossroads all over the world, and so we are very proud to charge forward into the next phase in the evolution of international shipping, where we continue to serve as a key transshipment center for the African and South American trade" stated Hartmut Goeritz, Managing Director at APM Terminals Tangier.

Over 200 cargo ships pass through the Straits of Gibraltar every day carrying cargoes from Asia, Africa, Europe and the Americas. The Tanger-Med port facility complex is situated only 8,9 nautical miles from Europe across the straits astride the primary sea lane. Ports of Morocco have doubled container throughput since 2008, and now handle over 2 million TEUs every year. The Tangier-Med Phase I container terminal, that opened in July of 2007, is being owned and operated by APM Terminals and the Moroccan
Akwa Group
. APM Terminals Tangier handled 1,23 million TEUs in 2012, a 4% growth over the volume of 2011. In January, 2013 APM Terminals Tangier was honored with
Morocco's National Quality Award
, and was also named "Best Employer in Morocco" in a country-wide assessment.
The world's larges ship
Maersk Mc-Kinney Moller
is next going to call Singapore and Hong Kong on its return to the Far East through the Suez Canal to accomplish its 1st service loop.