According to the latest press release of the
Philippine Coast Guard
, 2 other victims have been found on Friday by divers from the ferry
St. Thomas Aquinas
, which sank after she collided with the
cargo ship
Sulpicio Express Siete
on 16th of August in
Cebu
. The total number of victims rises up to 115.
The spokesperson of the Philippine Coast Guard, Commander Armand Balilo that also heads its public affairs office, stated in a press release that the bodies of the 2 victims were brought to the Talisay City port according to report of
Philippine Daily Inquirer
.
Further rescue operations by divers of the
Philippine Navy
, Philippine Coast Guard and National Police Department of the Philippine government "have been temporarily suspended."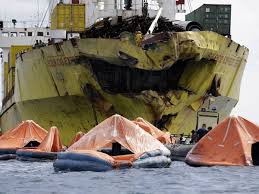 Team of with Japanese technical expers has been hired by the operating company of the collided passenger ship St. Thomas Aquinas, 2GO Travel in order to ease the siphoning of sunken ship's fuel oil, according to the statement of Commander Balilo.

"Divers are definitely going to resume their operations as soon as the fuel siphoning operation of the sunken ship is accomplished. We can not afford our team of divers to operate while the oil siphoning is being in action because it may endanger their lives," added Commander Armand Balilo.
Background information on the collision between St. Thomas Aquinas and

Sulpicio Express:

Captain of the sunken St. Thomas Aquinas Faces Probe