LUNA-S, Tanzanian-flagged freighter was transporting cannabis and after the fear of being caught crew members set on fire the vessel. This is the second case of a ship caught for transportation of drugs after 2 days ago cargo ship Gold Star was monitored and caught for illegal transportation of cannabis. Crew members did the unthinkable - destroyed the ship with fire.

The Tanzanian-flagged vessel LUNA-S have been stopped in the Mediterranean Sea. French Navy and experts boarded the ship and made an inspection. The experts had found the drugs. Crew members finding that they were discovered had to do something like setting the ship on fire and to leave the scene of the crime. At first place crew had to be rescued and later of course detained.

LUNA-S has been intercepted in international waters with significant quantity of cannabis. The number of the crew members was 8, they were transported to a French port.

The Salvage tug Abeille Flandre was sent to the location to stop the fire. It was again confirmed that the quantity of the cannabis was impressive. LUNA-S have been taken on tow a day after the fire incident to a French port. The salvage tug Abeille Flandre is specialized rescue operations and when is not needed by the French Navy can be used for private operations. The vessel is usually located in Toulon, France.

The Mediterranean Sea is monitored by Customs, Military forces and aircrafts. Suspected vessels are under surveillance before being inspected for suspicious cargo.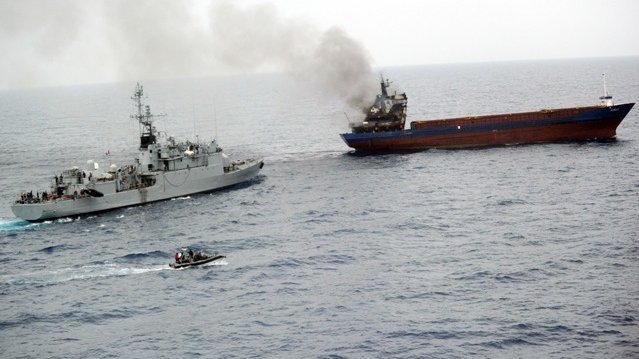 © Photo Préfecture Maritime de Méditerranée - Freighter LUNA-S on fire
Ship Name : LUNA-S
Type : General Cargo Ship
IMO : 7361491
MMSI : 677033700
Call Sign : 5IM437
Built : 1974
Registered Flag : Tanzania
Port of registration : MORONI COMOROS
Gross Tonnage : 1990
Net Tonnage : 1113
Deadweight (t) : 1530
Length Overall (m) : 82
Related information:
This is a second case in the Mediterranean Sea after smugglers tried to transport 30 tonnes of hashish on board Gold Star with an estimated street value of 40 millions of Euro (£33,8 million). The fire incident produced a massive drifting cloud of marijuana fumes. Feared to be caught crew members had to burn the evidences as police officers moved in to arrest them.