Almost 10,000 tons of coal have been dumped in the open sea from the grounded
Panamian ship MV Smart
. This "
interim measure
" was conducted by the salvage team, which was working of the grounded ship and the
Maritime Safety Authority of South Africa
(
SAMSA
), approved from the
Department of Environmental Affairs
(
DEA
). Almost 50,000 tons of coal are already in the sea after the grounded ship split in two parts into the ocean.
Extensive discussions were needed of SAMSA, DEA, the team of salvors, Ezemvelo KZN Wildlife, Provincial Department of Agriculture, Rural Development and the uMhlatuze Municipality to approve the emergency dumping of coal from the grounded vessel MV Smart in the ocean.
The area around the grounded vessel MV Smart was industrial area, which is annually dredged. Even though there are some major estuaries around the grounded ship, such as uMlalazi, uMfolozi uMlathuze Sanctuary the zone near the grounded ship isn't a biological diversity hot spot.
Nevertheless, the Department of Environmental Affairs assured, they are going to take all necessary measures to prevent any pollution of the area around the grounded vessel MV Smart.
The landing process of the coal in the water must be observed and consecutive with the recommendations of the London Convention Protocol on Marine Environment Protection (LCP) and the Integrated Coastal Management Act (IMC).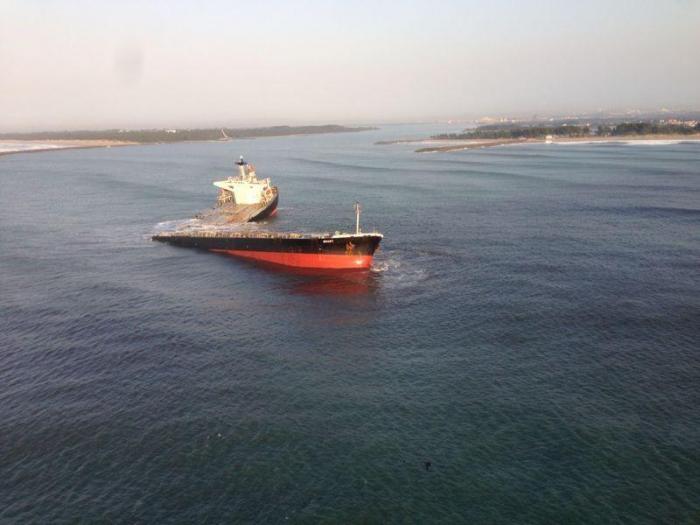 Dumping at water under the emergency permission would need to be made in a way, which takes the influence of the environment to minimal levels, according to the prescription of the IMC Act and London Convention Protocol. So far, the Department of Environmental Affairs keeps monitoring of the salvage operations, collaborating with other local environmental authorities in order to ensure that the marine environment is not compromised.
Related articles:
MV Smart bulk carrier runs aground up near Richards Bay
Grounded MV SMART Salvage Kicks Into High Gear
MV Smart Split in Two After Running Aground and released some of its cargo
MV Smart operation for removing oil from ship