A
nuclear-powered submarine burst into flames
during it's been in the shipyard for repairs and burned for 5 hours in
Vladivostok, Russia
. According to the initial information from the shipyard authorities, there isn't any risk of radiation leak from the nuclear-powered submarine and none was injured.
The burned
submarine Tomsk
, powered by
2 nuclear reactors
, burst into flames az the
shipyard of Zvezda
in Bolshoi Kamen, nearly 45 nautical miles from Vladivostok on the Sea of Japan.
For less than 2 years this is the second fire onboard a Russian submarine.
"Radioactive contamination is out of risk," according to information from an unidentified official in Pacific Fleet of Russia.
Fire onboard the nuclear-powered submarine Tomsk was extinguished by team of firefighters, who continued dousing the zone to avoid potential flaring up again.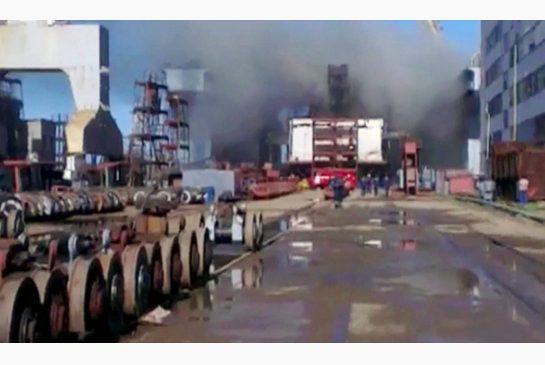 According to the initial reports there were no weapons onboard the Tomsk submarine at the time of the accident, although she is usually carrying up to
24 guided missiles onboard
. Furthermore, both nuclear reactors were shut off and they are now in "safe condition."
Going back to the previous similar accident, the fire into the shipyard in northwestern Russia, onboard the
nuclear-powered Yekaterinburg
in 2011, there weren't any nuclear missiles according to the officials' statement, but later was revelealed that was untrue.
On the place of the accident where burned the submarine Tomsk were dispatched 2 firefighting ships and a vessel to monitor the radiation levels around the area.
"The accident onboard the Tomsk submarine occurred in a ballast area, while welders were repairing some board equipments after an acetylene torch was used to cut through a grate, setting a rubber seal, cables and paint on fire," RIA cited an unnamed official at the shipyard as saying.

In addition, the unnamed shipyard official told that the cistern was outside the sealed core of the
burned
submarine Tomsk
where the nucleared reactors are situated.