Royal Princess cruise ship managed by Princess Cruises had problems with the power in the Mediterranean. The ship has started her journey from Mykonos and now is heading to Naples as planned. According to sources the problems started yesterday at 1:30 P.M. local time.

Emergency energy supply was supporting the most important services such as toilets and other emergency services. The power is expected to be restored, the current location of the cruise ship Princess Cruises is near Messina, Italy and is sailing to Naples.


Why Royal Princess lost power?
For the moment the problem is not identified.

The failure of losing power is not a new thing for the cruise industry. There are also similar problems that keep happening like engine failures and fire in the engine room. Recent reports from the insurance companies show that anti-fire systems in the ships are too old.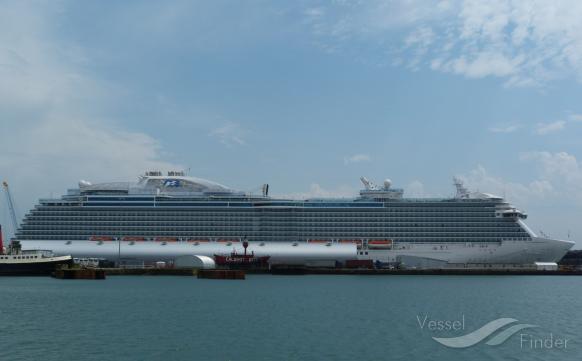 The newest cruise ship of Princess Cruises, Royal Princess was shown to the public in June this year. The owner of the cruise ship is Carnival, the company that had similar problems with other ships, the Splendor and Triumph.

Princess Cruises issued a statement yesterday in 6:00 P.M.:
"Today at approximately 1:30 pm local time, Royal Princess experienced a power outage. Power has since been restored and the ship is currently en route to Naples. During the power outage, an emergency backup generator was used to provide essential services, such as toilets. The ship is not in any danger, and the Captain has been keeping passengers regularly informed about the situation. The ship is currently on the seventh day of a 12-day Mediterranean cruise that departed Venice on September 15. There are 3,594 passengers and 1,336 crew members onboard."

Royal Princess current position is available at VesselFinder's website. If you want to see images from the web cam of Royal Princess go to http://www.princess.com/bridgecams/rp/royal_bridgecam.html

Some passengers are concerned about other technical problems on the cruise ship such as plumbing, electricity, air-conditioning, the anchor.

Royal Princess started a 12-day cruise from Venice, Italy according to CruiseMapper.


Ship Name :ROYAL PRINCESS
Type :Passenger (Cruise) Ship
IMO number :9584712
MMSI :310661000
Call Sign :ZCEI3
Built :2013
Manager :PRINCESS CRUISE LINES LTD
Country :USA