January 2019, AAL successfully shipped 22 petrochemical plant modules (26,000 cbm in total and weighing 1,280 t) from the Wilson Heavy Industry Company in Nantong, where the cargo was loaded, to Nan Ya Plastic's Ethylene Glycol II Expansion Project in Point Comfort, Texas on behalf of the Pacific Ocean Group Limited.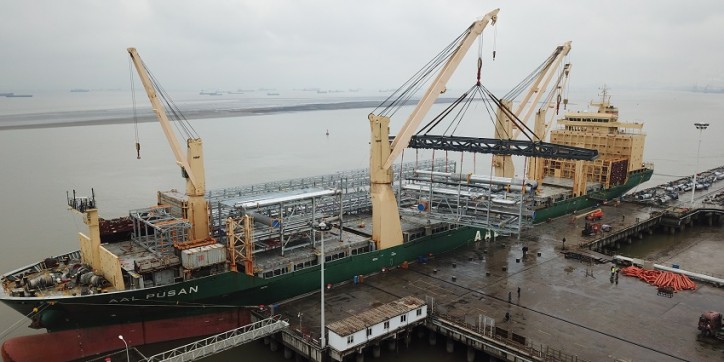 The shipment of 22 modules was transported on a single sailing from Nantong to Point Comfort aboard the mega-size MPV, the A-Class 31,000 dwt AAL Pusan, making good use of her 700 t max heavy lifting gear in loading and discharge operations and harnessing over half of her copious intake capacity of 40,000 cbm, with several units stowed away in her holds whilst others were securely lashed onto her weather deck.
Once installed at the US facility, operated by Nan Ya Plastics – a division of the Taiwanese petrochemicals production giant the Formosa Plastics Corporation – the modules will aid in the production of Ethylene Glycol – an odorless and colourless organic compound used in the manufacture of automotive antifreeze, hydraulic fluids, printing inks, and paint solvents. It is also used as a reagent in the making of polyesters, resins, and synthetic waxes.
Jack Zhou commented, 'With AAL's unique fleet mix, focusing on larger multipurpose heavy lift tonnage – and particularly a 'mega-size (+30,000 dwt) MPV like the A-Class – we not only offer customers flexibility in stowage options, but significantly more space than other carrier options to accommodate additional cargo on each sailing – with significant cost and efficiency savings for them.'
Source: AAL