After Royal Princess, the newest cruise liner of the cruise company Princess Cruises, encountered a power outage, the company owner was forced to cancel the remaining part of the 12-day Mediterranean voyage.

There were almost 3,600 passengers onboard the damaged Royal Princess, which had no power about 3,5 hours on Sep 22, as the cruise liner was sailing between Mykonos and Naples. The 12-Mediterranean voyage began on Sep 15 in Venice and the passengers were about 1 week onboard Royal Princess. As was announced from the company owner Princess Cruises, the backup generator was used just for most crucial functions such as toilets (trying to avoid the scene on Carnival Triumph, few months ago) during the time of powerless onboard the Royal Princess.

The cause that lead to power outage on Royal Princess is under investigation, according to the statement of Princess Cruises, part of the Carnival Corp. company, but initial reports reveal that the main cause seems to be an electrical switchboard.

According to the Facebook post and pictures of a Royal Princess's fan "the cruise liner has had many other issues in the past 8 days, plumbing, air-conditioning, electrical and last night we were delayed leaving Mykonos for more than 4 hours because they couldn't get the anchor up."

The cruise ship arrived in Naples in midnight on Tuesday on its own steam after the power onboard the Royal Princess was restored. All the passengers are being expected to stay onboard until Tuesday night and depart Wednesday on flights arranged by the Carnival Corp. The remaining about 5 days of the 12-day Mediterranean voyage had to be canceled so the repairs on Royal Princess could be made, stated the spokesman of Princess Cruises.

Carnival Corp. will again be forced to full refund plus 25% credit on a future cruise. The next depart of the Royal Princess cruise ship is scheduled to depart Barcelona on Friday but it's yet not clear whether the cruise ship will be repaired.

The Royal Princess is the newest cruise liner in the fleet of Princess Cruises and was launched in June this year. Royal Princess is scheduled to arrive in Fort Lauderdale on October 27, 2013.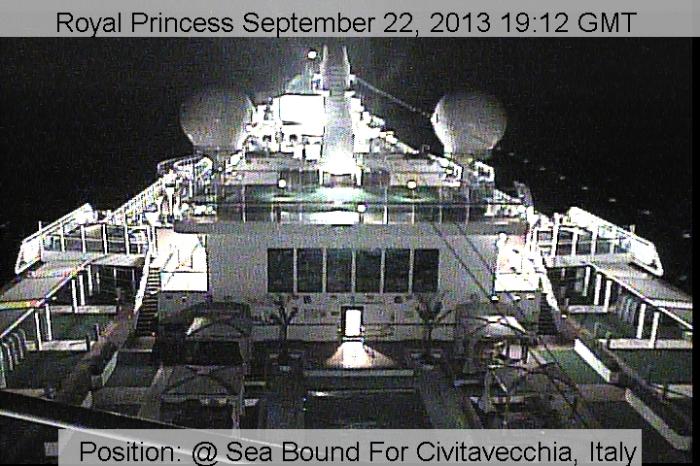 Check the complete Royal Princess cruise schedule on CruiseMapper.
Ship Name: ROYAL PRINCESS
Type: Passenger (Cruise) Ship
IMO number: 9584712
MMSI: 310661000
Built: 2013
Manager: PRINCESS CRUISE LINES LTD