CentrePort's record cruise ship season has hit a new milestone with the 100th vessel visiting Wellington – the first time the mark has been achieved in a season in the port's history.
The arrival of the Golden Princess (see also CruiseMapper) on Saturday 16th March, is the 100th arrival of the season that began last October.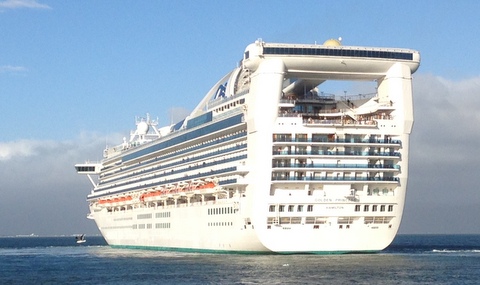 CentrePort CEO Derek Nind says while it has been the busiest cruise season in the port's history, the business and the city have managed it well.
"Thanks to the hard work of CentrePort's Break Bulk team including our pilots and tug crews, those connecting passengers to the city, and our partners including WREDA, we have been able to facilitate the record volumes of ships and people.
"CentrePort is proud to play its role in helping Wellington take advantage of the global boom in cruise ship tourism, which has benefits flowing through to the local and regional economy," he said.
Since the start of the season, the Capital has welcomed nearly 290,000 passengers and crew and that total will top 320,000 people by the end of the season.
WREDA General Manager David Perks says cruise ships continue to bring big benefits to Wellington.
"The number of cruise ship visits has nearly doubled in the past decade, and every season adds tens of millions of dollars to the Wellington economy.

"While easy to focus on the economic impacts, credit must also go to WREDA's 150 volunteer Cruise Ship Ambassadors who ensure passengers have a memorable time while in Wellington. They are the often-unheralded backbone of our cruise industry."
The 110th and final cruise visit of 2018/19 season will be the Radiance of the Seas due to berth on 22 April.
Source: CentrePort (Additional information about the Port at CruiseMapper)