Costa Concordia
search for the missing bodies came to its end. Divers have found unidentified human remains. 2 people were missing since the day of the tragic incident near the Italian island Giglio. 30 passengers died in the crash and 2 were missing, human remains found by divers in the water near the central part of the ship, where those escaped from the sinking ship had said the 2 were last spotted.
Costa Concordia was raised and that action gave chance to the divers to investigate the area. DNA test will be conducted in order the 2 victims to be identified. The two missing people were a female Italian and a male Indian waiter, their bodies were recovered today in the morning.
The head of the civil protection agency Franco Gabrielli announced that the remains found in the central part of the tragic cruise liner Costa Concordia were "absolutely consistent" with the 2 missing passengers. He also was surprised that the bodies were recovered after 20 months under the wreck of the the 114,500 tonne cruise ship.
There will be a try all belongings to the passengers to be recovered also. Costa Concordia was raised upright some days ago in an impressive parbuckling operation off Giglio Island.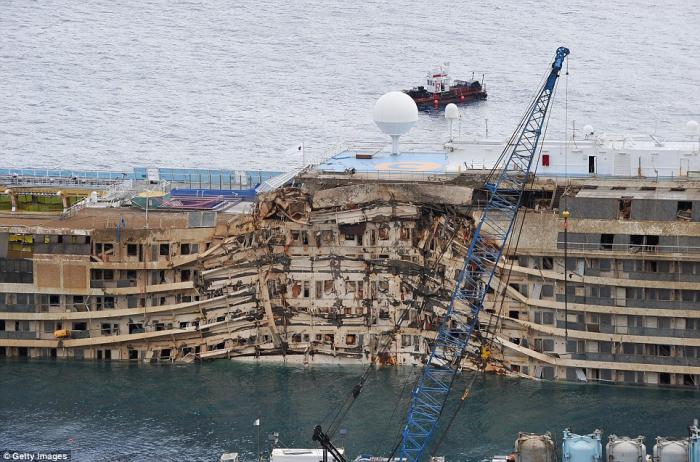 Related article:
COSTA CONCORDIA UPDATE: Missing Bodies Search Began following the Salvage Operation
Background information on the Costa Concordia Accident:
Costa Concordia cruise giant has been successfully pulled upright after 20 hours operation. The engineering was impressive, this salvage operation was first-of-its-kind and one of the biggest in the history.
The complicated operation for the upright of the tragic cruise ship Costa Concordia started in the morning and was planned to last for 12 hours but a thunderstorm stopped the process for 7-8 hours. There was also delay in the beginning to set up all the cables, pulleys and counterweights.
There were needed 22 hydraulic pumps to raise the enormous wrecked cruise ship Costa Concordia in the right position. The giant is supported by 6 underwater platforms made of steel.
What's next?
Costa Concordia has to be towed back to shore somewhere far away from Giglio and to end her journey for broken apart for scrap.