Carnival Corporation
representatives had a meeting with the Catalan President Artur Mas at the Palau de la Generalitat, the place of Catalonia's regional government, with Barcelona's Mayor Xavier Trias and the President of the Port of Barcelona Sixte Cambra. The purpose of the conversations was the building of a new cruise terminal in Barcelona. Carnival Corporation has the intention to invest in the city.
The Port of Barcelona authorities announced information about the meeting that a deal had been signed with Carnival Corporation. The company will invest and operate a new cruise terminal (Terminal E) on the Port's Adossat wharf.
Carnival Group is planning to give €20 million to build terminal E which will cover about 10,000 square meters and will allow Panamax cruise ships carrying 4,500 passengers to enter the territory. The terminal is needed because the cruise ships are getting bigger and bigger every year. These large cruise ships have to be capable to turn around for their itineraries in the Mediterranean.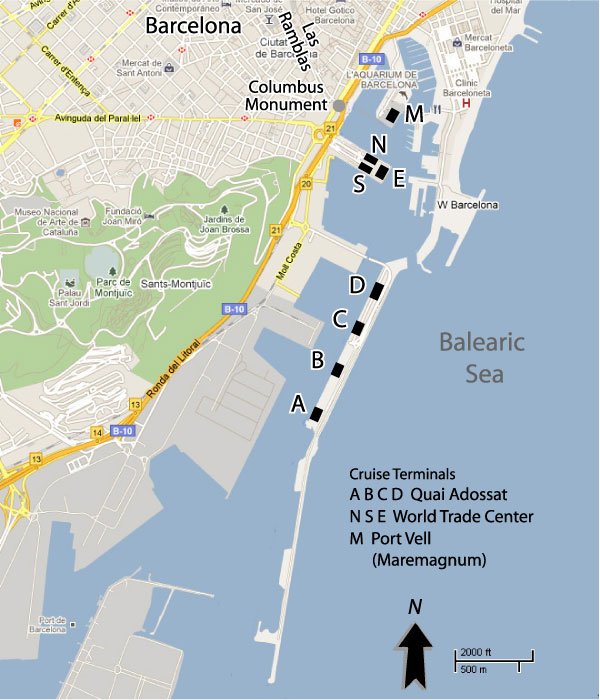 Carnival Corporation & Plc has invested since 2005 to build and operate an existing terminal called "Palacruceros" or also known as terminal D and the agreement to have under concession the Adossat wharf at the Port of Barcelona. The plans include development of this terminal D by creating a singlestory building covering 1,300 square meters in the southern part of the current building.
There will be also one more investment of €3.5 million by the Port of Barcelona. Money are needed for preparation work around the new terminal E. Carnival Corporation & Plc will manage the new terminal and will take it under concession. The new construction is planned to start working in 3 years.
Panamax is a class ship that is built passing through the Panama Canal locks. Ships smaller than 90,000 tons are of the class Panamx. Bigger ships have to be thin in order to fit for the dimensions of the Panama Canal.