Passengers had to jump in the River Thames after their amphibious London Duck Tours cruise boat burst in fire.
30 people (including children) had to be saved from the water after abandoning the burning vessel. The action was near the
the Houses of Parliament.

London Duck Tours vessel was making regular tour when suddenly flames appeared and passengers got scared to death.
After discovering the flames and the smoke people left the boat immediately. Near located barges helped the tourists and soon rescue workers and crews with joint efforts rescued all the people in the water including children.


The most of the people did not have need of medical attention but a woman and a child were transported to a hospital with fears of smoke inhalation.
According to a police information the people had luck and the incident "could has been a lot worse". It is good that all people are safe and do not have injuries.
It is known that on board the amphibious London Duck Tours boat were 28 passengers and 2 crew members.
Play the Video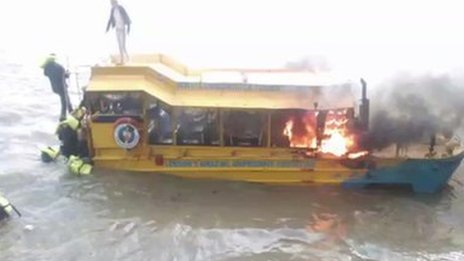 London Fire Brigade managed to extinguish the fire quickly but the damage is estimated to be 33%. Scotland yard representative informed:
"A number of people were reported to be in the water at the time. Several Metropolitan Police units attended including the Marine Policing Unit and the police helicopter."

"A number of people were recovered from the water. All 28 passengers and two crew members have been accounted for."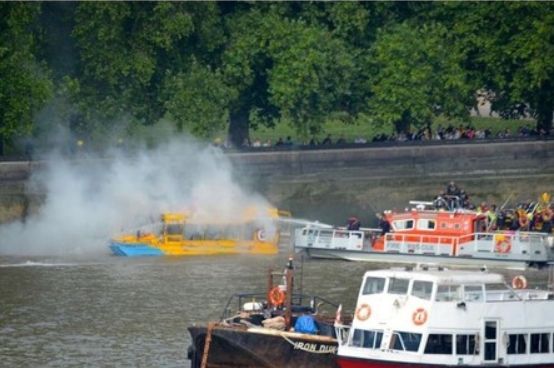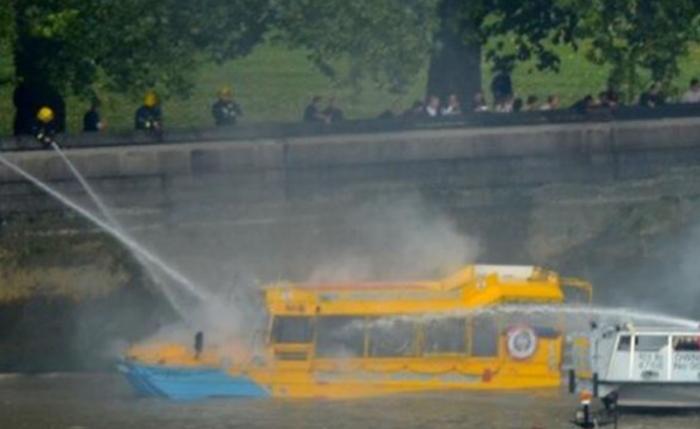 A passenger from the tragic boat said:
"Obviously the engine caught on fire and then we saw smoke, we saw fire, and my husband and I said 'I think we better jump into the river'."
"It was really hot. The flames were really hot and it was confusing.
"We weren't sure what was happening so it was scary."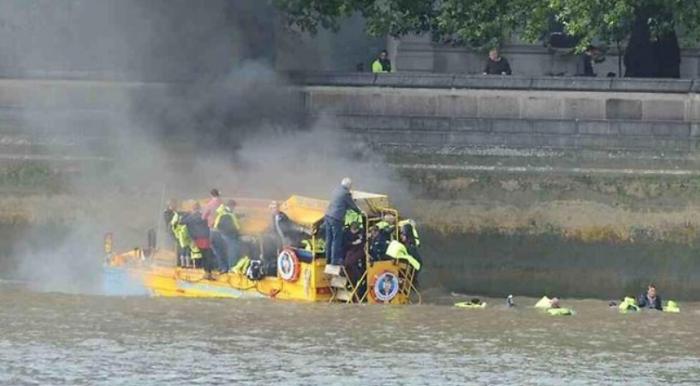 London Fire Brigade (LFB) successfully pulled all people out of the water and further it is expected the Port of London Authority to make an investigation about the fire.

London Duck Tours that operates the bus and the river tour promotes tours on the road and on the river rather than the boring voyage on road. The boats painted with yellow colour are known as "ducks" offer exciting journey on the River Thames.

Amphibious vehicles often have problems and incidents are not rare. London Duck Tours for example had problems with 7 of its 9 vehicles.