Stena Polaris
, a
Stena Bulk
chartered tanker is making her way with 44 000 tons of naphtha from the
Gulf of Finland
to South Korea via the North-East Passage. The
route through Arctic waters
is a real challenge for technology and experience.
Stena Polaris
left the Russian port
Ust Luga
in the Gulf of Finland on the 17th of September and is supposed to arrive at the South Korean port Yosu on 18 October. This "Arctic quest" is a joint project between Stena Bulk and South Korean company
Huynday Glovis
and can be tracked by reports, photos and videos some of them released straight from ship. Interviews with the members and officers of the crew and experts are also available.
Patrik Svanh normally employed in Stena Bulk's office in Gothenburg is now providing the information exchange of the ship. He states Stena Polaris's journey is one of the greatest adventures in his life and it will be a really useful experience for the future projects of his company.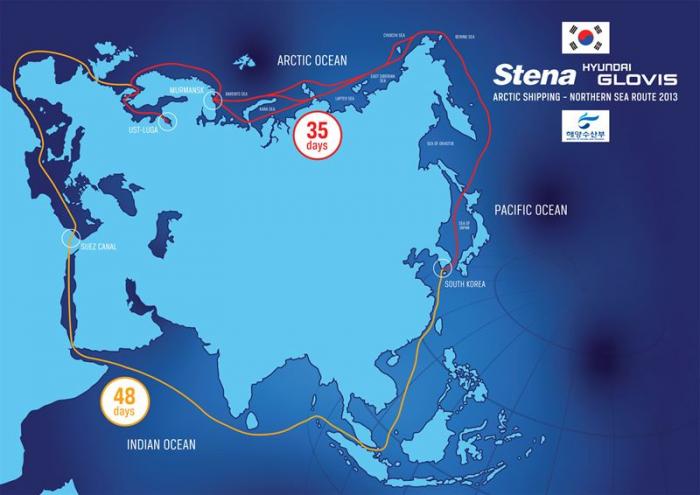 The first Podcast released today is focused on crew's introduction. Captain Sasa Stipanovic gave an interview regarding the daily routines, training, readiness and food on board.
Stena Bulk plans to publish three further podcasts. "The commercial aspect"-will reveal facts about the ship, the
high safety standards
, technology and the icebreakers. "Nature/Culture" will be focused on environment, climate and clothing and historical and geographical feedback on the different locations. "Economy and Future Prospects" will be published at the end of the journey and will deal with general environmental issues. The ambassador of Sweden in South Korea is expected to supply with information on this country which is the final destination of
Stena Polaris
.
Stena Polaris is owned by
Concordia Maritime
and is time-chartered by Stena Bulk and has the following
technical descriptions: Length: 183 m, beam: 40 m, draft: 11.3 m, deadweight: 65,000 tons.
Stena Bulk and Concordia Maritime together designed and built
P-MAX tankers
. These tankers have a double hull, two engine rooms with water and fire integrity and two propulsion systems, optimum corrosion control and two propulsion systems. The tankers have excellent maneuverability and a 360° view, facilitating safe navigation in narrow waters which is achieved by double propellers and rudders and a specially designed bridge layout.