Typhoon Wutip
took two victims since September 29th. Three boats from south China's Guangdong Province are were submerged near Shanhu Island in the Xisha Islands, about 330 km from China's island province of Hainan and 88 fishermen went missing. Fourteen fishermen are already rescued since Tuesday but
58 are still missing
in the
South China Sea
.
According to
Hainan Maritime Affairs Bureau
, reported by their spokesman Zhang Jiethe,the search for survivors after the
Typhoon Wutip
continues and in the operation are engaged 4 airplanes and twenty-two rescue boats.
One of the fishermen rescued on Tuesday, Huang Honghui, told that he and Gong Zhimei were in a life raft, which was leaking after drifting amid big waves when the rescuers noticed them.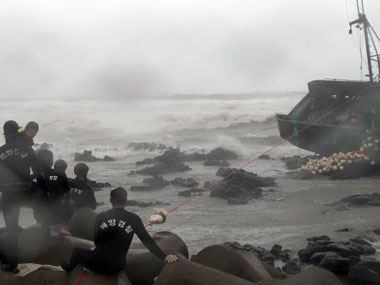 The rescuer Li Haitao used a rescue sling to get on their life raft and the two fishermen were lifted on the helicopter, where they were provided with water and biscuits.
Huang Honghui and Gong Zhime were in good health, only with injuries of the soft tissues.
The Typhoon Wutip caught two more fishing boats.
Hainan Maritime Search and Rescue Center
reported that 171 people were
in danger
on Sunday.
The warning for the
Typhoon Wutip
came on September 27. The fishermen did not ashore, they tried to avoid gales by putting their boats south of Shanhu in a lagoon but without success
The Typhoon Wutip became a
super typhoon
on Sunday. At his eye the winds were up to 151.2 km per hour.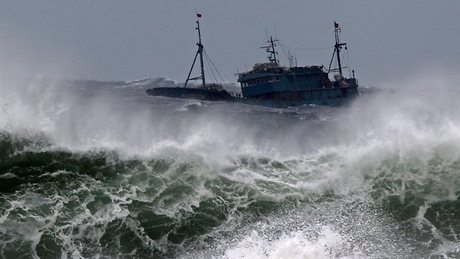 Despite the strong waves and gales, which make the rescue operation difficult, the rescuers believe that the fishermen still have a big chance to survive due to the fact that the water temperature in South China Sea is over twenty degrees Celsius.

Three more military vessels joined the rescue operation on Tuesday. The Chinese navy added seven warships altogether so far. They are helping with manpower radar and infrared search equipment.
So far, 319 fishermen,
trapped by the Typhoon Wutip
, are sheltered and provided with food and water by the navy barracks on Chenhang.
Related Articles:
At least 47 Missing as boats sink in South China Sea Typhoon