The World's Fastest Ship Francisco has been christened in Buenos Aires by the President of Argentina. The ship is built in Australia in honour of the Argentine born Pope. The World's Fastest Ship is 99 meters long and use LNG as its primary fuel. Incat Tasmania Pty Ltd is the company that created this piece of art and the ship was sent to Argentina by the South American company Buquebus.

The vessel Francisco will start sailing right away on the River Plate (Rio Plato) with ship itinerary between Buenos Aires and Montevideo. In the video below is giving the people the possibility to follow the ceremony of the christening of "Francisco". The Argentinian President was accompanied by the President of Uruguay in Buenos Aires. The 2 presidents participated in the ritual of cutting the ribbon were 1500 invited people witnessed the important event.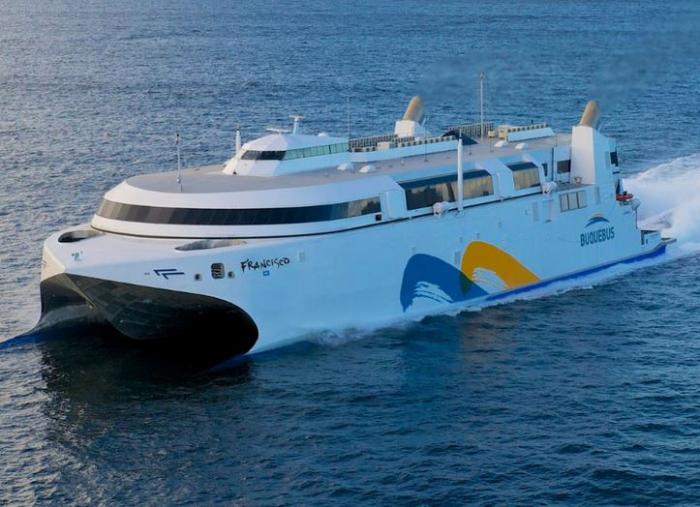 Incat Tasmania successfully created the world's first high speed dual-fuel vehicle and passenger ferry making the machine the fastest in the world - 58.1 knots – (107.6 kilometres an hour). If we search for the fastest vessel in the oceans and the seas definitely there are boats that can surpass 58 knots but they are not capable to transport over 1,000 passengers. and 150 cars including an enormous duty free shop on board the world's fastest ship Francisco.

The ship's speed is possible thanks to the design, a wave piercing catamaran design. Materials used for the construction of the Francisco ship are lightweight strong marine grade aluminium, and the speed is given by the 2 22MW GE LM2500 gas turbines driving Wartsila LJX 1720 SR waterjets.

The chairman of Incat Tasmania, Robert Clifford informed that the company is satisfied with the new innovative ship design and hopes that Buquebus is happy with the product. The ferry Francisco is a good way to travel compared to the airline traffic.

What about the speed record of Incat
In the past the company designed really fast ship named Juan Patricio (IMO number IMO 9106118) given also to Buquebus. The maximum speed of the previous fast vessel was 53.8 knots. Juan Patricio was built in 1995 and delivered 1996 and is operational even now. Incat company have designed and produced 4 high speed (over 50knots) vessels.

Incat has designed 25 High Speed Craft over 5000 gross tonnes with a maximum speed of more than 45 knots. In the past winners from the competition of the Hales Trophy were also produced by the company.