The Singapore-registered "Safmarine Makutu" and "Pices", Panama flagged, collided late Wednesday night, 9 p.m. local time. Safmarine Makutu was traveling from Osaka, western Japan to South Korea while the Panama flagged Pices was heading toward Toyohashi Port in Aichi Prefecture, central Japan from South Korea when they collided in waters off the western island of Shikoku.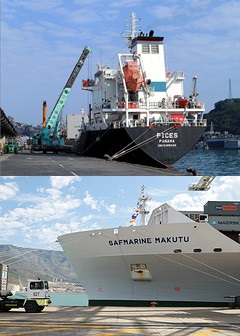 According to the Japan Coast Guard the 21 crew members of 50,686-ton container Safmarine Makutu and the 13 crew members of the 4594-ton Pices are with no injuries, the vessel are with no significant damages and they continue on their routes to Osaka and Aichi Prefecture.
The maritime authorities in Kobe City, reported by spokesperson at the 5th Regional Coast Guard Headquarters, are still investigating the details of the collision and still they can' specify whose fault might be.
Safmarine Makutu and Pices collision is the second significant incident in a week time in the waters near Japan.

On September 27th at about 1.25 am, the Japanese Eifukumaru No.18 collided with Jia Hui, cargo ship registered in Sierra Leone, 5 Japanese seafarers lost their lives and another is still missing.The Japanese Coast Guard identified a 35 year old Chinese sailor from the Jia Hui as responsible for the collision and arrested him earlier this week.