Seafaris luxury yacht exploded. All 16 people on board were saved, no one's life is at risk.

Seafaris, a 41m long super yacht sunk after a fire on board, followed by an explosion. The accident happened near the Australian Queensland coast, on Thursday around six o'clock in the morning, local time. All people on board including 8 passengers and 8 crew members are alive and well.

Crew acted quickly and accurately. One of the passengers said he was sleeping, when the fire burst out but a crew member knocked heavily at the door and shouted "Fire" several times. All people were evacuated in a lifeboat. Pretty soon after abandoning the Seafaris yacht, an explosion followed.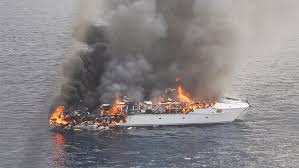 Australian Associated Press quotes the coast guard radio operator at Cairns

"It happened bloody quick... We heard about it on the wireless and about 30 seconds later it had sunk."

The lifeguards were not able to reach the yacht on time. Passengers and crew were saved by a passing container. It responded the mayday call and sent a rescue boat. All people reached the near harbour Cairns in good health, only two of them had minor injuries and were treated by paramedics. Glen Allit, the harbour pilot that brought the people to land said the passengers looked shocked and weren't very talkative. One survivor is quoted

"We are all safe that's that matters".




Seafaris is chartered for luxury cruises along the coast of Queensland and costs $ 120 000 to be hired for a week. Yacht owners McCloy Group, announced explosion is due to a fire in the engine room.