A ship that was transporting migrants to Italy and sank, over 100 bodies are recovered and 200 still missing. The search for the people that jumped in the water continues near the island of Lampedusa. The migrants from Africa have made a try to reach the Italian island, on of the shortest routes on sea from Africa to Europe.

It is suspected that the boat was transporting about 500 people on board and was traveling from Libya. There are fears that 200 of the passengers are still missing. 150 travelers have been rescued so far.

The ship is known that has been transporting migrants from Eritrea and Somalia, caught fire when was near the island of Lampedusa. Information from the tragic event reveals that the boat had problems with the engine and the migrants on board started a fire to attract the attention of nearby ships hoping for help. But the worst happened and the fire spread. The passengers had to move to the other side of the ship that lead to the sinking of the transport vehicle.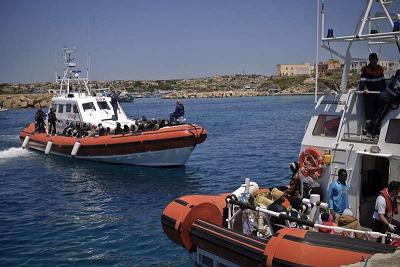 Italy Deputy Prime Minister Angelino Alfano said that this was a "European tragedy":
"This is not an Italian tragedy, this is a European tragedy. Lampedusa has to be considered the frontier of Europe, not the frontier of Italy."

Alfano also informed about some curious facts that 16,000 illegal migrants were saved in the country only for the first half of the year. Lampedusa is situated between Tunisia and Sicily and is favorite destination for migrants from Africa, it is the shortest way to the "freedom".

The number of migrants is estimated by UN to 232 million.

Thousands of Africans flee to Europe every year. The UN estimates that there will 232 million international migrants in 2013.
RELATED ARTICLE: