Vessel returns to service after a mid-life upgrade including a conversion to natural gas
Just in time for Earth Day, the Spirit of Vancouver Island (see also CruiseMapper) returned to service last Thursday (Apr 18) following its mid-life upgrade, with the ability to now operate on liquefied natural gas (LNG). The ship is the second Spirit Class vessel in the fleet to complete the conversion from diesel to clean LNG.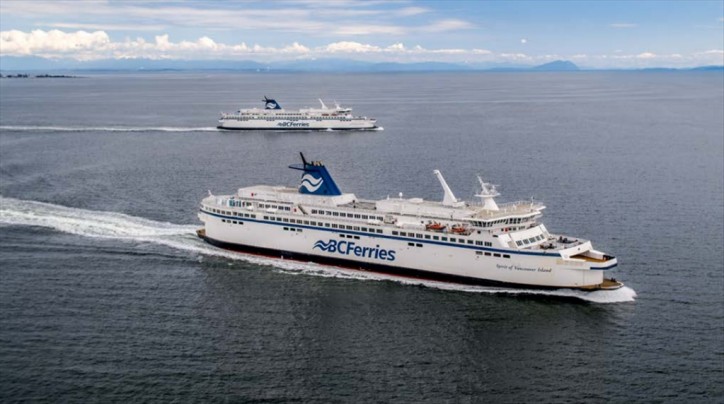 "With both Spirit Class vessels now operating on LNG, BC Ferries expects to reduce CO2 emissions by 12,500 tonnes per year, or the equivalent of removing 2,500 cars from the road every year," according to Mark Collins, President and CEO of BC Ferries. "Operating these vessels on natural gas is both environmentally sound and good for affordable travel. We expect to reduce fuel costs by millions of dollars by running these vessels on LNG."
The Spirit of Vancouver Island services the Vancouver (Tsawwassen) – Victoria (Swartz Bay) route and completed the conversion this past winter and spring. Last summer, its sister ship, The Spirit of British Columbia, successfully completed the same mid-life upgrade. These conversions represent a significant investment in clean technology.
"BC Ferries is reducing our environmental footprint," Collins says. "We are safeguarding the environment while finding new ways to improve the sustainability of our operations."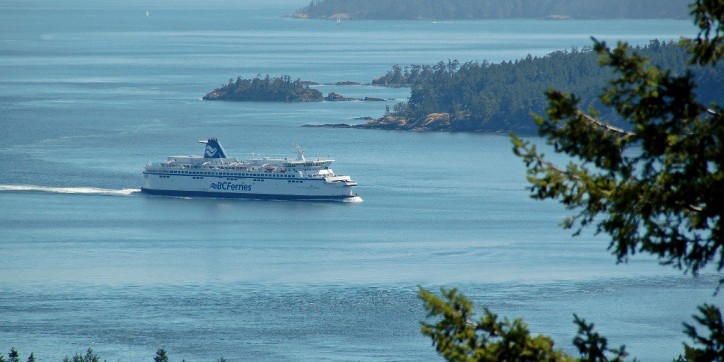 BC Ferries' adoption of clean technology has been recognized by its international peers. Earlier this spring, Shippax honoured the company with the Shippax Retrofit Award for completing the conversion of the Spirit of British Columbia from diesel to liquefied natural gas. The role of being an industry leader as it comes to the use of innovative technology that lowers emissions is a role BC Ferries takes seriously. The Spirit of British Columbia was the first passenger vessel in the world to fuel LNG on a totally-enclosed deck.
BC Ferries now has five ships that operate on cleaner natural gas – two Spirit Class and three Salish Class ferries. The Baynes Sound Connector, the cable-ferry from Buckley Bay to Denman Island, has dramatically reduced that route's environmental impact. Since it was introduced in 2016, diesel consumption and associated air emissions on that run have dropped by approximately 50 per cent. Looking ahead, BC Ferries will introduce hybrid-electric ferries to serve inter-island routes next year.
Source: BC Ferries