Ferry hit wharf at Sydney's Circular quay

Harbour City Ferry announced eight people were injured after one of its vessels hit the end of
a wharf at Sydney's Circular quay.

The ferry assigned to do the Paramatta river services crashed into one of the support structures of Wharf 5.

Two adults and a juvenile passenger complained of having pain in knee, jaw and a cut lip.
According to Harbour City Ferries a passenger with a sore jaw was sent to a hospital and
seven people were treated at the site of the crash. Steffen Faurby, spokesman of Harbour City Ferries, announced an investigation is going on to clarify what exactly caused the accident.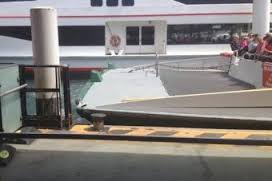 Steffen Faurby said they got everything under control at Sydney Circular Quay. The vessel
had some superficial damage at the bow and was transferred to Harbour City Ferry maintenance centre to be repaired.

Faurby declared the position of Harbour City Ferries regarding the incident:

"Clearly, the safety of our passengers and crew is the number one priority for Harbour City Ferries.
We are working with all relevant authorities to ensure we continue to operate our services as we draw
to the close of what has been an exceptionally busy long weekend for ferry services."