Norwegian Cruise Line decided to name the 2 new cruise ships Norwegian Escape and Norwegian Bliss taking into consideration the opinion of its facebook fans. The cruise company started a contest named "Norwegians Name Their Ships" and the most of the votes were for these names.

Norwegian Escape and Norwegian Bliss are Breakaway Plus cruise ships (163,000 tons and capable to carry 4,200 passengers). More than 100, 000 facebook fans (United States, Canada (excluding Quebec), Spain, Germany and the United Kingdom) voted on the page of the cruise company for 15 days last month.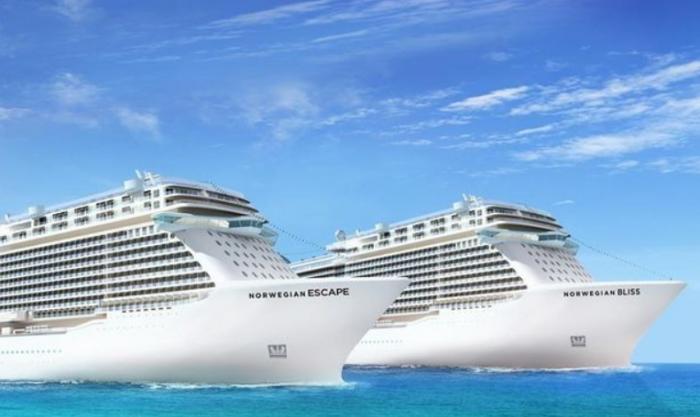 Norwegian's chief executive officer, Kevin Sheehan"announced at the end of the contest:

"The response to our 'Norwegians Name Their Ships' contest was overwhelming,"

"It reaffirms that we have a very engaged and passionate community of Norwegians and we are thrilled with the names they have selected for our two new Breakaway Plus Class Ships. Norwegian Escape and Norwegian Bliss are two names that truly characterize our brand, Freestyle Cruising®, and the experience guests will have on board these fantastic new vessels."


All of the people that participated in the contest and voted for their preferred name was eligible for the price, a trip for 2 to the 1st Breakaway Plus ship's inaugural festivities, plus round-trip coach airfare for 2, ground transportation, balcony stateroom accommodations (double occupancy) and on-board meals.

Norwegian Escape and Norwegian Bliss cruise ships will be the biggest in the Norwegian Cruise Line's fleet and will have almost the same design and new improvements of the cruise company to that Breakaway Plus class.

Freestyle Cruising - passengers can decide what to dress what to eat, generally passengers will have the possibility to be free to do whatever they want.

The cruise ships are expected to be launched in 2 years.