The adverse weather conditions in Isola del Giglio over the last week are the reason for salvors to start securing the Costa Concordia wreck.
The wreck have been moved due to the bad weather. Engineers stated that those minor movements are a kind of settlement of the shipwreck. They also think that the winterizition of Costa Concordia should continue because the weather is going to be worse and the shipwreck should be secured for the winter.
The plan for the wreck was presented at the Giglio residents by Chairman of the Observatory Maria Sargentini and Commissioner for the Concordia emergency Franco Gabrielli. There were also representatives from Costa and Titan Micoperi and the Mayor Sergio Ortelli. The residents were given the latest updates on the ongoing activities.
The meeting was mainly focused on the process at the wreck site. The operation was divided into three steps.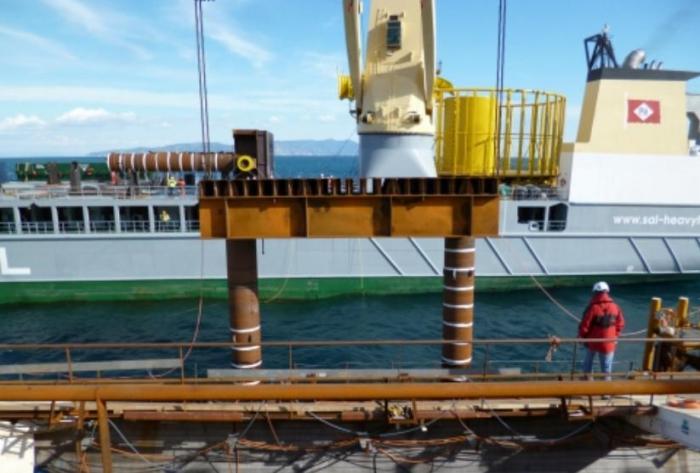 The first step will be to secure the bow from moving. This will be done in a similar way to the activities of initial grounding of the ship. The bow movements will be avoided by positioning of an additional hold-back system. Activities started since October 7th. Additional grout bags are installed between the rocks on the land side and the shipwreck by crews. The shipwreck will be connected to the underwater platforms by tubular structures. The wreck itself are going to be attached to the top of the sponsons.
The position of the 15 sponsons that will be used in the refloating phase are yet to be defined. Now, on the formerly submerged starboard side structural surveys are in progress.
The period for adding the sponsons and refloating the shipwreck still can not be calculated and the officials not mentioned it in their statements.
On Tuesday, Italian officials reported that remains of a body are found by divers searching the wreckage of Costa Concordia. Still two victims are missing and the body is thought to be one of them.