Tunisian captain of the ship that wrecked near
Lampedusa
is charged for being responsible for the catastrophe, the death of 250 people and helping illegal immigration.
Tunisian
Bensalem Khaled
, captain of the ship that wrecked near the island of Lampedusa was arrested sent by Italian police to jail in
Sicilian Agrigento town
on this Tuesday. The Tunisian is accused for being responsible for the ship wreck and and the death of over 250 people. He's also charged for assisting illegal immigration.
Meanwhile the search continues. Filippo Marini Commander of the coast guard announced 18 bodies were recovered from inside the ship and another one was noticed driven by the sea near the wreck by a helicopter pilot. This increases the number of the victims to 250. Filippo Marini confirmed search operations would continue as long as the weather would be appropriate. So far only 155 survivors are on Lampedusa and most of them and probably all are from Eritrea. They say 500 people were on board when their ship capsized and sank just near the cost of Lampedusa. Seven of the dead are children and 75 women. Only six of the survivors however are female.
EU institutions will make a bid for more funds for sea patrols to deal with refugees trying to find shelter in Europe after the Lampedusa catastrophe.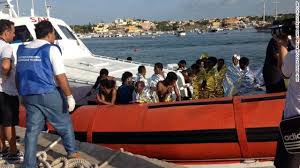 Cecilia Malmstroem declared she had begun discussions with the relevant ministers from all the 28 member countries and that she would ask for ""a big Frontex operation right across the Mediterranean from Cyprus to Spain for a big save and rescue operation".
Frontex is the EU agency, established in 2004 and headquartered in Warsaw to protect the union from illegal immigration.
EU and the immigration flood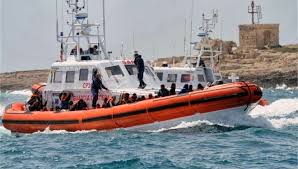 Frontex
funds however suffered a severe reduction. In 2011 Frontex had at its disposal $160 millions and $ 90 million in 2012 and only $85 million in 2013. That is why the agency has to rely on member state donations for boats, ships, helicopters and other machinery. Frontex has saved the lives of 16, 000 people in the Mediterranean only for the last two years.
Next week on Tuesday EU minsters are to gather in Brussels and Lampedusa disaster is supposed to be the main topic. Italy has already complained that 30 000 immigrants arrived in the country this year which is more than a 400% increase on a year to year basis. Italian authorities have long been asking for the solidarity of the wealthier northern EU members to help them cope with this problem.
Crisis in the Middle East fosters immigration in the EU through Sicily.
Danish ship
saved 141 Syrian refugees trying to make their way to the island. Other ship form Panama ship saved another 263 people from Syria and Palestina having problems with their vessel just 100km off the coast of Sicily.