The Werkendam started work on its first project this week. The world's first LNG-powered crane vessel, it is carrying out maintenance work in the port of Rotterdam.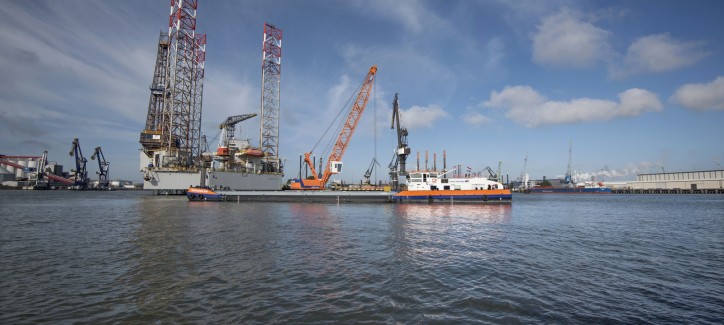 "The client, the Port of Rotterdam Authority, is pleased with this initial deployment: 'We are encouraging the transition from fuel oil to LNG as a fuel for shipping. It is good that operational ships are taking the lead,' says Ronald Paul, COO of the Port of Rotterdam Authority.
The Werkendam is also the first Van Oord vessel to run entirely on LNG. With a storage tank on the aft deck, the Werkendam can store enough LNG to sail and operate for fourteen days without refuelling. Compared to a diesel-powered vessel, the Werkendam emits 80% less particulate matter and 70% less nitrogen. It also boasts a CO2 reduction of 25%.
"We are proud of this ingenious crane vessel. The vessel is a practical expression of our pioneering role in the field of sustainability." - Ronald Schinagl, Director Netherlands at Van Oord
Van Oord will deploy the crane vessel mainly on Dutch projects for its subsidiary Paans Van Oord.
Economical crane
As well as running on LNG, the Werkendam has more sustainable innovations on board. For example, the electric crane is equipped with devices known as ultracaps, which recover energy when, for example, a load is released.
The Werkendam is co-financed by the European Union.
Source: VAN Oord