Costa Crociere
, owner of
Costa Concordia
, appointed
Boskalis'
branch
Dockwise
to remove the wrecked ship from
Giglio island
waters.
Dockwise, a branch of Royal Boskalis Westminster N.V. with 100% Boskalis share in it, won a contract to move the wrecked Costa Concordia off the coast of Giglio. After the successful raising of the Concordia, the owner of the ship
Costa Crociere
examined various ways of moving Costa Concordia to a place with Dockwise Vanguard. An extraordinary operation is planned, the huge cruise liner will be
loaded on a Dockwise Vanguard's
globally unmatched vessel. Costa Crociere are still having talks with the Italian authorities, concerning the place where the scrapping operations will take place. Committing them in Italy is an option.
The
contract between Costa Crociere and Dockwise Vanguard
include some changes to be made on their vessel to provide capacity for the load of Costa Concordia. The operations are planned to begin in the middle of next year. The contract is at the amount of
approximately $ 30 million
.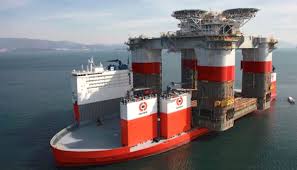 The Dockwise Vanguard is the
biggest semi-submersible ship
on the planet and is capable of lifting and transporting super heavy loads securing cargo protection. The ship was originally built to move offshore gas and oil extracting constructions but also has the capacity of loading other vessels on board and to be employed as a dry dock. The stern (back side) of Dockwise Vanguard is flat and the deck has no bow. The deck is 275 meters long and 70 meters wide but Dockwise Vanguard can accommodate larger loads. This is achieved with a special technology that will be applied with Costa Concordia. First, the Dockwise Vanguard's ballast tanks will be filled with water. The ship will submerse, Costa Concordia will be pulled over Dockwise Vanguard. Tanks will be emptied, Dockwise Vanguard goes up taking Costa Concordia over the sea surface and the
wrecked ship
could transported in quickly and safely.
SMIT Salvage
, emergency services supplier, another affiliate owned 100% by Boskalis, took part in the operations in the first months consequent to the Costa Concordia wreck. The fuel left in Costa Concordia's bunker was safely run off by SMIT Salvage and their Italian partner Tito Neri.
"Boskalis views this project as strategically important demonstrating the opportunities for combining maritime services and assets across the breadth of the company. Furthermore, the use of the Dockwise Vanguard for this extreme salvage operation shows the versatility of the vessel. The recently announced transportation of a FPSO, a recent successful dry docking operation and this salvage transport contract award demonstrate the potential of the vessel," states the company.

Source: http://www.shipcruise.org/costa-concordia-accident-salvage-operation/