COSCO ENGLAND is the newest vessel in the Cosco ship list and is currently heading to the first voyage to the Port of Felixstowe, United Kingdom. The big container ship is 13,400 TEU, registered in Hong Kong, length overall 366 meters, deadweight 153,700. COSCO ENGLAND is the biggest ship owned by Cosco.

Clemence Cheng, Chief Executive Officer of the Port of Felixstowe informed:


"Our relationship with Cosco dates back to 1989 when their first vessel called at the Port of Felixstowe, and we are honoured that they continue to make Felixstowe their UK port of call. We are the major gateway for trade with China and the Cosco England is a magnificent testimony to the importance of the Europe – Asia trade."

"It is appropriate that this magnificent ship has been christened the Cosco England, reflecting the increasingly strong economic ties that link China and the largest part of the United Kingdom. We are proud of the role we play in facilitating this trade and committed to providing the facilities and level of service that these modern mega-vessels require."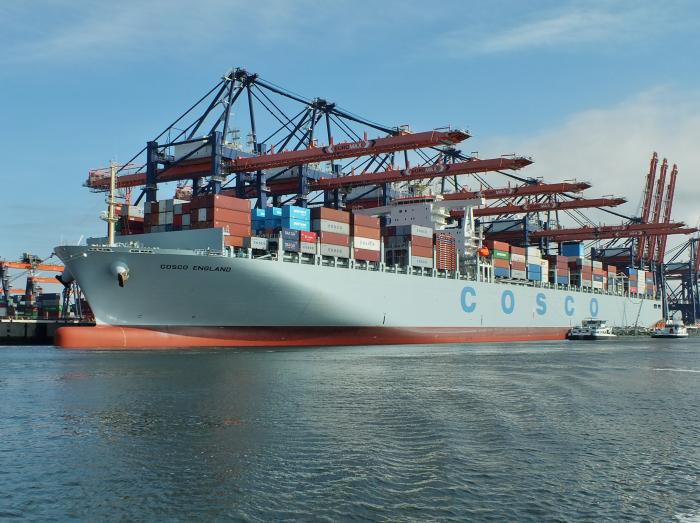 Simon Yang, Chief Executive of COSCO UK announced that United Kingdom is principal destination and important place for trade of Cosco Group. The Chinese company located part of its logistics business and bulk shipping in United Kingdom. The new growing investment, trade, cultural exchanges between China and the UK, Cosco is making plans to do more to take more of the United Kingdom and Ireland market, to make the business more effective, of course with help of its partners like Hutchison and their customers.

In the past ships from China transported tea to Britain. Nowadays COSCO ENGLAND will play important role in the trade between China-Britain trade. The giant container ship will transport not only tea but items such as household consumer goods, mechanical and electronic appliances. When sailing to China COSCO ENGLAND will carry on board not only whine, beer and whisky but quantities of aviation equipment, cars, machinery and medical instruments. The giant container ship is expected to become an important part of the China-Britain connection.

Cosco is the owner of 187 container ships with total 840,000 TEUs. The ships of the Chinese company are distributed over 100 destinations and visiting more than 140 important ports around the world in 44 countries.