Family vacation turned into a family nightmare on a cruise ship. A six year boy from a Central Florida family died on board of Carnival Cruise Ship, Carnival Victory last Sunday.

Miami – Dade Police department detective, Javier Baez revealed details about the accident. He said Qwentyn Hunter from Winter Garden and his 10 year old brother were playing in a pool areas of the Carnival Cruise Ship Victory, when people saw him under water without doing any moves.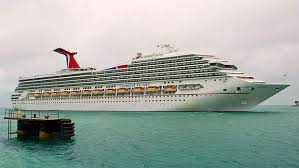 Shaina Shaw, also a passenger onboard the Carnival Victory, helped to take the child's body out of the water. She told what she saw. She said she had seen the little boy playing with his parents and his older brother in the "very shallow end the pool" before the accident happened. She heard the anxiety on board and she understood something bad had happened. Shaw said she actually helped to lift the child's body, so that CPR could be made. Unfortunately it was too late for this. All the people were crying. Family was in shock. The father next to his son was begging him to stay alive, told Shaw with her eyes bursting in tears, when she got back to that tragic moment. "Poor family has to go on vacation with their child and have to come back without them, it's not fair, it's not fair," she added.


Carnival Cruise Line, owners of the Carnival Cruise Ship Victory released their statement early on Monday: "While the ship was at sea on the last leg of a four-day Caribbean cruise, a six-year-old boy drowned in the midship pool. He was at the pool area with other family members at the time... Carnival extends its heartfelt sympathy to the family during this very difficult time. The company's CareTeam is providing assistance and support."

After her weekend Caribbean cruise was over, Carnival Cruise's ship Victory debarked at Port Miami on Monday morning.

Source: CruiseMapper