The bail requests of both foreign activists and the
American master
of the
Greenpeace vessel
were rejected by a Russian court. The captain of the Greenpeace ship and other 2 activists were engaged with the protest against the oil drilling in the Arctic area.
The 60-year-old captain of the
Greenpeace ship
,
Pete Wilcox
and the other 2 activists,
Camila Speziale
, 21-year-old and
David John Haussmann
, 49-year-old, had appealed against the pre-trial order for their detention.
All the activists charged with piracy are about 30, who are being held in Murmansk.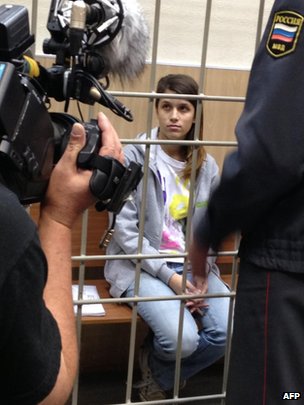 Today, October 15, is the hearing for guarantee for
Briton Frank Hewestson
. Alongside the Italian activist Cristian D'Alessandro and Swiss activist, Marco Weber, Briton Hewetson, 45-year-old, logistics co-ordinator of the Greenpeace ship will appear in court.
The Greenpeace ship,
Arctic Sunrise
was publicly seized by the security forces of Russia about 4 weeks ago after some of the activists attempted to scale an oil drilling rig.
Until now all the guarantee applications of the arrested Greenpeace activists have been refused.
The captain of the Greenpeace ship denied any piracy charges against him in the Russian court. He is a veteran campaigner who was master of the Rainbow Warrior Greenpeace ship when it was bombed and sank in 1985 by the French secret service.
"I've been working on ships doing environmental work for 40 years. Never before have I been accused of using violence or doing something for my own personal gain. And I reject these accusations in the strongest way possible," he said.


Captain Wilcox would have stayed in New York if he could start again, reported Russian news agencies.


"He is a hero not a pirate," his wife Maggie said in a statement.

"I'm innocent and I do not understand what I'm accused of," said Camila Speziale, who is Argentine and Italian citizen.


All the 18 Greenpeace activists of the Arctic Sunrise ship who were arrested are now accused of piracy, and the maximum potential sentence they could serve is 15 years.

The pre-trial detention has been placed until late of November.