Sri Lanka arrested 37 Indian fishermen and accused them in poaching.

Sri Lankan Navy arrested 37 Indian fisherman on Monday night and charged them of poaching in Sri Lankan aquatory.

Kosala Warnakulasuriya reported that 22 of them were caught near Thalaimannar and 15 near the Delft Islands. Sri Lankan authorities also captured fishermen's nine trawlers.

This happens only a week after the visit in Sri Lanka of Salman Khurshid, External Affairs minister. He confirmed to the government of Sri Lanka that India will take efforts to solve the problems of poaching in these countries' waters by Sri Lankan and Indian fishermen.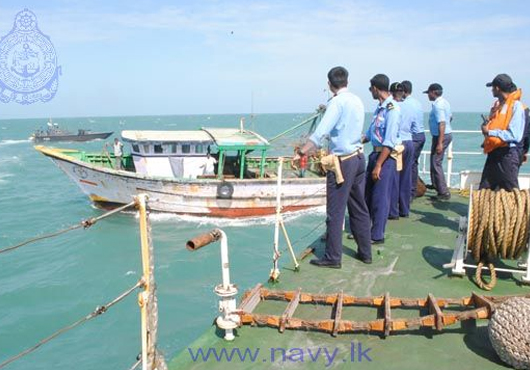 The 22 arrested near Thalaimannar, come from Rameswaram and the rest of them are from Pudukkottai district's Jagadapattinam. Thalaimannar fishermen were in five boats and the others in four.

U.Arulanandham, President of the Alliance for the Release of Innocent Fishermen (ARIF), gives details regarding the arrest. Rameswaram fishermen are in Vavuniya prisona and will be judged by The Mannar District court and those from Jagadapattinam are in Jaffna prison and will be judged by the court in Kayts. Both groups' judicial custody is till 25th of October.

Thus the number of Tamil fishermen imprisoned in Sri Lanka reached the number of 60. This includes 5 fishermen staying in jail for more than a year after being unjustly sentenced for drug peddling. Authorities there also took 39 boats. Four of them belonged to Karakai fishermen.

U.Arulanandham regrets that Sri Lankan authorities act to liberate 20 Rameswaram fishermen and their 4 boats on the 7th of October during Salman Khursid's visit is not followed by any other action.
He also doubts that Indian prime minister Salman Khursid put the issue in his talks with the government of Sri Lanka as there is no change in Sri Lanka policy.
P Sesu Raja, district secretary of Tamil Coastal Mechanised Boat Fishermen's Association is afraid that arrests in Sri Lanka are a response to the arrest of 26 Sri Lankan fishermen by the In Indian waters on the 10th of October. He blames both governments for "ruining" the lives of fishermen in the two countries and suggests that negotiations that for the solution of the problem must take place.
According to a report in Pudukkottai, fishermen from the distirct were supposed to return home by Tuesday morning. Their relatives however still wait for them.