Seaspan Ferries announced Thursday (May 23) that it will be adding two new Liquid Natural Gas (LNG) – Battery hybrid ferries to its fleet in 2021. The vessels will be constructed by Damen Shipyards Gorinchem B.V. at their Mangalia Shipyard in Romania.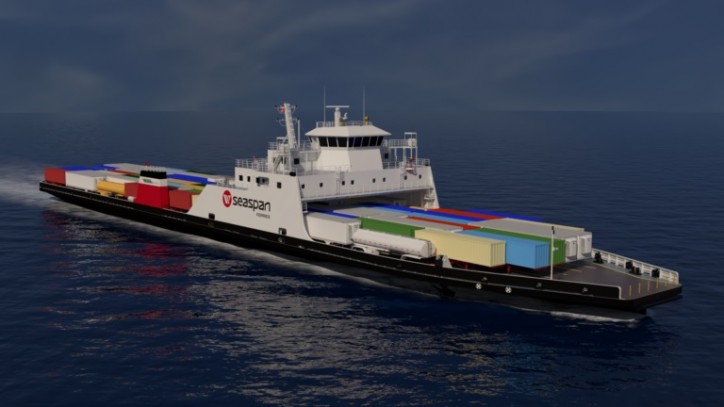 With construction scheduled to begin in 2019, the vessels are expected to go into operation in 2021. They will join the Seaspan Swift and the Seaspan Reliant, the company's first hybrid ferries, commissioned just over two years ago. Since introducing these vessels to their fleet, Seaspan Ferries has been able to significantly reduce greenhouse gas emissions, while maintaining a high level of performance and reliability for its drop-trailer service between its Mainland terminals and Vancouver Island.
Damen Shipyards won the bid to build the new ferries thanks to their excellent reputation, commitment to quality, and proven infrastructure at the Mangalia Shipyard. The two companies have been working closely to ensure that the new vessels meet the strict safety, performance and operational standards required to provide optimal service to Seaspan Ferries' customers.
"Within their first two years of service, our existing LNG hybrid vessels have operated with emission reductions of over 50% compared to traditional vessels; a large part of which is directly linked to the use of LNG fuel. These types of results truly reflect Seaspan's commitment to our core value of Care for the Environment. Expanding our fleet of LNG vessels will allow us to further expand our service offering and reduce emissions at the same time. It's the right decision for the business and for the environment." - Frank Butzelaar, CEO Seaspan Marine Transportation

"We've been very happy with the construction and performance of our LNG vessels and are excited to welcome the new ferries to our fleet in 2021. The entire Seaspan Ferries team has been extremely dedicated to the integration of the LNG vessels over the past two years, and we are excited to be working with Damen Shipyards in Romania to continue to grow our fleet." - Harly Penner, Director, Fleet Engineering & Vessel Development
Ship features:
Length: 149m
Lane metres: 1034m
Type: Roll-on/roll-off
Energy supply: 209m3 LNG storage onboard, 2MWh battery capacity
Propulsion engines, switchboards, ESS and LNG storage supplied by MAN Energy Solutions
Thrusters supplied by Schottel Inc.
Vessels will be classed by Bureau Veritas
Source: Seaspan