China Merchants Offshore Technology Research Center (CM-OTRC), the R&D center for China Merchants Industry Holdings (CMI) of Shenzhen, China, have completed the basic design of the OOS Zeelandia a new semisubmersible crane vessel (SSCV) that, when built, will have the largest lifting capacity in the world. Designed in close collaboration with OOS International B.V. (OOS) of Netherlands, it is being classed by American Bureau of Shipping (ABS), who have recently granted Approval in Principle (AIP) to the vessel design.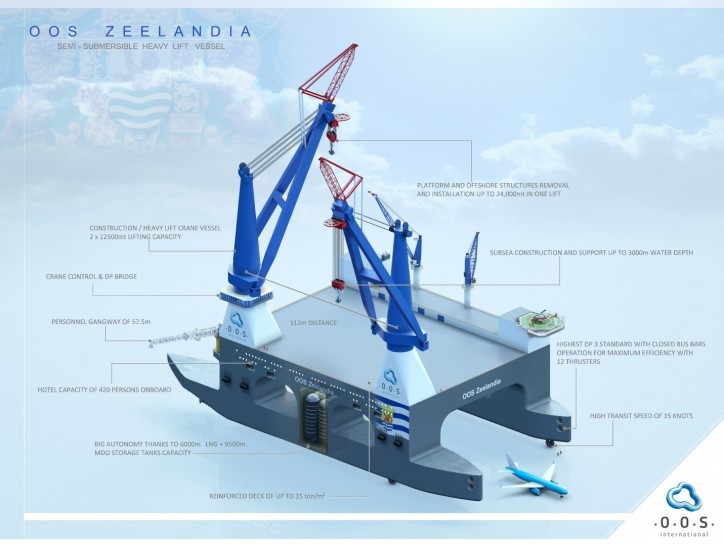 With a total lifting capacity of up to 25,000 metric tons (mt) using two (2) fully-revolving cranes of 12,500 mt each, and with a large clear deck space of over 11,000 m2, the SSCV is designed to lift and transport a large offshore structure on its own main deck, either for installation offshore in one lift, or for decommissioning in one piece and transporting back to shore for re-use/upgrade or dismantling and disposal.
The unit will be lifting over the STBD side, therefore the distances between the cranes is not limited to the width of the vessel but can use the majority of the length of the vessel resulting into a smashing 112 Mtrs between the cranes.
Powered by twelve (12) duel fuel engines (MDO and LNG) of 85 MW total capacity and installed in 6 engine rooms for maximum redundancy, the vessel will be fitted with a closed bus DP3 system, aided by high redundancy azimuth and tunnel thrusters. Use of LNG for fuel will significantly reduce the vessel's carbon footprint. It is designed to travel at normal economical speed of 12 knots and at a maximum speed of up to 15 knots. High transit speed has been a major design consideration. The vessel will have a winterized main deck and will carry ABS ice class A0 notation, making it possible to operate in a first-year arctic ice environment. In addition, a large accommodation capacity for up to 492 crew and personnel in single and double cabins will make it self-sufficient for operation in remote areas worldwide for extended periods of time.
Besides off-shore structures installation or decommissioning in the oil and Gas and/or Off-shore the vessel is also capable of serving several other markets, most important among them being subsea installation (for which the cranes are designed with a heave compensation system), offshore wind turbine installation ("economies of scale" versus vessel cost), and pipe laying.
CMHI is currently building in its Haimen, Jiangsu yard two smaller vessels of similar design, named OOS Serooskerke and OOS Walcheren, albeit with smaller cranes of 2 x 2,200 mt each. All use OOS's unique asymmetric pontoon concept, with the main lifting cranes placed on the starboard side, thus making the starboard pontoon larger in order to support the heavier crane load. OOS has already been successfully operating OOS Gretha, which was the first vessel built to this concept, on a long-term charter for Petrobras in the Brazilian waters.
Source: OOS International