Greensteem
, the first barge in the world totally fueled with Liquified Natural Gas (
LNG
) and chartered by
Royal Dutch Shell
began transporting liquid fuels along the banks of river Rhine in March 2013.
Greensteem LNG barge
was projected and constructed by Dutch shipbuilders
Peter Shipyards
.
Peter Shipyards had also constructed a
sister 100% LNG powered vessel
. Both vessels are 110-meters long and are operated by the company
Interstream Barging
(ISB).
In September 2012, Royal Dutch Shell announced it had signed a charter contract for the two newly built 100% LNG powered barges.
Royal Dutch Shell employs such 100% LNG fueled vessels for the first time and 100% LNG powered vessels haven't been used in inland water transport before the Greensteem. The two vessels are intended to supply liquid fuels along the river banks of the Netherlands, Germany and Switzerland. You could see Greensteem's sister vessel in the pictures applied.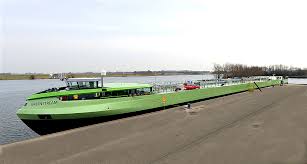 The new LNG vessels will be powered by four spark-ignited natural gas fueled
Scania-Sandfirden engines
. The barges have LNG Cryonorm Projects fuel tanks and Cryovat-Rootselaar's fuel system. The 40 cubic meter fuel tanks are big enough to store fuel for a
7 day Rotterdam – Basel - Rotterdam floating
.
The two 100% LNG powered vessels have different outlook than most of the barges. Bridges are located at the bow of the vessels which is a rarity in barges construction. This design improves floating efficiency, trim and consequently safety.
Shell stated in their website that the new 100% LNG powered barges comply with all the
strict fuel efficiency
and environmental standards applicable in Rhine river transport. LNG engines reduce harmful emissions and give the opportunity to save fuel when floating downstream. The LNG engines work at lower frequency and thus minimize vibration and noise which could be factor in transporting along the densely populated banks of the Rhine.