Destroyer "
Zumwalt
", the biggest and most technologically advanced ship to be in
US military fleet
, is soon leaving dry dock. Unlike most of the military projects this one is to be completed on time and without any extra funding.
The Zumwalt destroyer will have a big gun, stealth and other technologies.
Zumwalt was initially planned to be the the first of a
series of 20 ships
but because of the expensive construction of the number was reduced to 3.
Zumwalt costs $3.5 billion
that is three times more than its preceding destroyer. Zumwalt is soon to be sailed into water but there will be no christening ceremonies.
The new US Navy destroyer is huge that
General Dynamics
affiliate
Bath Iron Works
needed a new 32 m high "Ultra hall", costing $40 million around to store the large hull segments of Zumwalt. The new vessel is 30m longer than current destroyers' standards.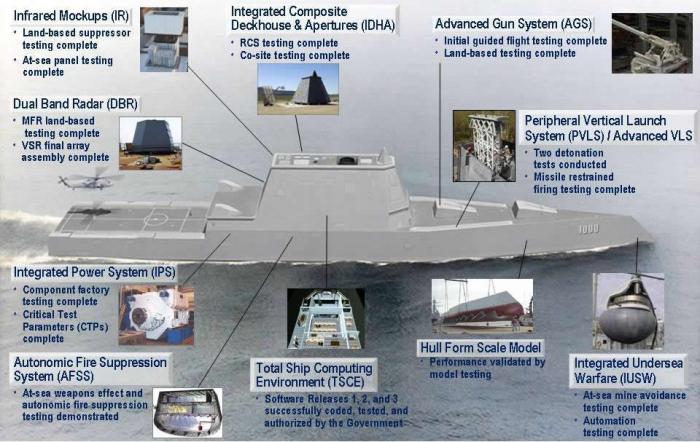 The
hull of Zumwalt
is wave-piercing and the propulsion is electric driven. Its superstructure will be lower to make it less radar detectable. Zumwalt's new gun will be able to fire rocket-propelled warheads at the range of 160km. Zumwalt will also have sonar and guided missiles.
Zumwalt was planned for offshore bombardment but the 78 megawatts of energy it produces (enough to supply 78, 000 households) provide the capacity for mounting new futuristic super weapons as for instance a new gun firing a projectile seven times faster than sound, based on electric current and magnetic field.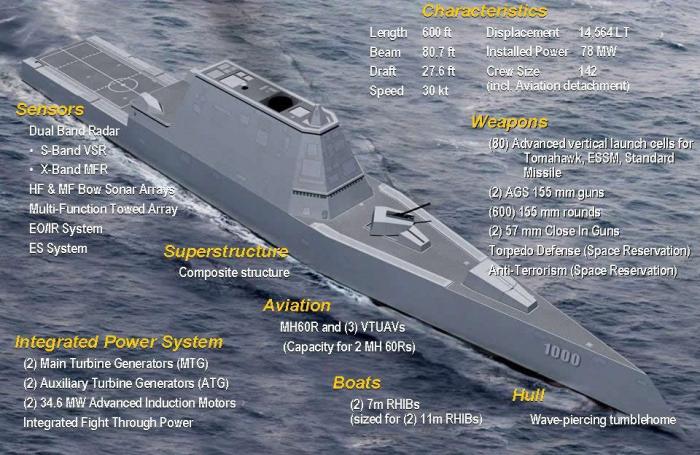 The high tech advanced ship will need to be manned only with half of the standard destroyer crew and will have 158 sailors.
Lexington institute
, defense specialist Loren Thompson said Zumwalt is a chain between the past and "the and the new world of networked warfare and precision guided munitions".
Destroyer Zumwalt is named after admiral Zumwalt who fought in World War II. Admiral Zumwalt's was honoured with a Bronze medal for his bravery at the Leyte Gulf battle. He was just 49 when president Nixon appointed him and that makes him the youngest naval chief. Zumwalt supported progressive causes like the end of racism and allowing of females to serve on navy ships.