The first cruise ship of the season, the 596 guest Silversea Cruises Silver Muse (see also CruiseMapper), a luxury cruise line based in Monaco, will dock at the Port of Nanaimo Sunday, June 16.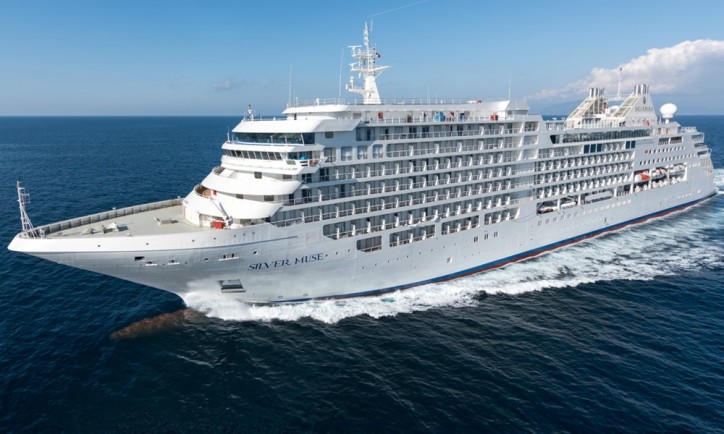 The vessel will arrive from Prince Rupert Sunday at 8 a.m., departing at 10 p.m.  An average spend for passengers disembarking for on-shore adventures is $80 each per day, meaning a ship of this size could contribute as much as $48,000 in a 12-hour period to the local economy.
"The Port of Nanaimo has built an outstanding dock facility and welcome centre for cruise ships," says Port CEO Ian Marr. "We are pleased to be Silversea's choice, and as the community continues to expand the variety of on-shore attractions it can offer passengers, the number of cruise ships that stop in Nanaimo will continue to increase."  Tourism Nanaimo and professionally trained Ambassadors from the Nanaimo Hospitality Association will be on hand at the terminal and throughout downtown to greet and advise passengers on what to do during their stay.
World Oceans Day a huge success
Thousands of pounds of shopping carts, crab traps, tires, vessel equipment, coffee cups, nets and more were extracted during a very successful World Oceans Day harbour cleanup and awareness program coordinated by the Port of Nanaimo on Saturday, June 8.  Eight buckets of debris were collected by volunteers from the shores between the Nanaimo Yacht Club and Maffeo-Sutton Park.
Snuneymuxw First Nation, the City of Nanaimo, Fisheries and Oceans Canada, SunDown Diving, Nanaimo Dive Outfitters, Green For Life Environmental, Thrifty Foods, Panago Pizza South Nanaimo, Vancouver Island University, RE/MAX of Nanaimo, World Fisheries Trust and the Western Canada Marine Response Corporation (WCMRC) as well as several dozen volunteers participated in a clean-up along Nanaimo's waterfront and in the Nanaimo Boat Basin.
Snuneymuxw First Nation, City of Nanaimo, Fisheries & Oceans Canada and the Port of Nanaimo hosted activities at Maffeo Sutton Park, Saysutshun (Newcastle Island) and the Harbourfront Walkway as part of the international occasion.  Activities and educational opportunities for kids including a build-a-whale orca skeleton, touch tanks, arts and crafts and entertainment were held throughout the day, as well as cultural presentations and beach exploration at Saysutshun.
Mark Your Calendars
The Port of Nanaimo will hold its annual Open House at the Passenger Terminal on Saturday, July 13, from 10 a.m. to 2 p.m.
Source: Port of Nanaimo (Additional information about the Port of Nanaimo at CruiseMapper)