Russian Ministry of Transport and Danish Maritime authority participated in together in an Arctic shipping seminar in Saint Petersburg. International Maritime Organization (IMO) Secretary-General Koji Sekimizu was also present, joining in discussions.

A lot of issues were discussed related with the intensifying marine traffic in the Arctic region, administrative regulation, business opportunities and maritime navigation. Different participants shared their know–how and experience. Representatives of both countries estimated the partnership possibilities resulting in a Russian-Danish government council and integrating efforts in the International Maritime Organization for the elaboration of the Polar Code.

Businessmen and state officials from both countries took part in the seminar and shared their know-how and accumulated knowledge related with Northeast Passage traveling. The way through the Arctic is used more and more often as a logistic connection between Asia and Europe.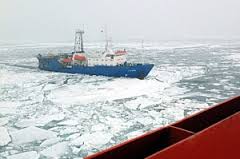 Danish Maritime Authority representatives also acquainted seminar participants with the potential of their ArcticWeb. ArcticWeb is a network elaborated to facilitate Arctic transport planning and screening. The seminar was closed with a Russian presentation focused on improving the training of navigators in icy waters.

Danish Maritime Authority wasn't the only representative on behalf of the Danish crown. The Government of Greenland also attended the seminar, as well as officials of Danish Shipowners Association and a couple of Danish sea transporters. Russian side was presented by the Russian Ministry of Transport, the Russian Shipping Register, their maritime training institutions based in Saint Petersburg and members of the Russian shipping business.

Andreas Nordseth the Director-General, lead himself the Danish Maritime Authority. Andreas Nordseth is also assigned to be Co-Chairman on behalf of Denmark in the joint Transport Working Group to serve the Russian-Danish government council. Konstantin Palnikov, director from the Ministry of Transport of Russia lead the Russian group.

Participation in the seminar is part of the program of the Danish government for economic development in Northern Danish territories (the so called Blue Denmark). One of the ways to achieve it in government's understanding is to foster partnership with other countries in the Arctic area.