The captain of Costa Concordia, who is accused of causing her disaster, was amusing a young Moldavian dancer at the time of the accident.

Domnica Cemortan, 26-year-old Moldavian dancer, admitted her affair with the married Captain Francesco Schettino, 53-year-old, in the court in Italy.

Captain Francesco Schettino is accused of multiple manslaughter and causing a shipwreck. According to the court his frivolous behaviour was the reason of Costa Concordia capsizing. In January 2012, near the island of Giglio, 32 people lost their lives.

At the beginning of the trial, Domnica Cemortan had denied their affair but prosecutors alleged that witnesses at the ship bridge saw how the Moldavian presence distracted and confused Captain Francesco Schettino.

She admitted the affair after the judge had threatened her with contempt of court. Ms Cemortan also said that she had no ticket and her name wasn't in the passenger list officially. She was onboard only because of her relationship with Captain Schettino.
A week before the capsizing, Costa Concordia sailed by the island off the Tuscan coast.

One of the waiters onboard, Antonello Tievoli, said: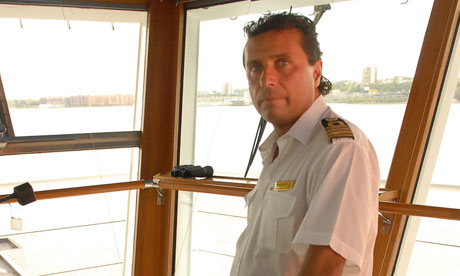 "The night of 6 January, I asked the commander if he could move closer to the island than usual, since we were still in the Christmas holidays. And he agreed, but was not satisfied with the distance. He thought it wasn't close enough. He asked his second in command Ciro Ambrosio to repeat it the following week."


Domnica Cemortan also testified that Captain Francesco Schettino had been in full control of the situation at the time of the maritime accident. Her words were not taken into consideration because there was a video showing the officers' reaction. They all looked panic.

Ciro Onorato, a crew waiting staff member, testified that at the time of the accident he was helping the passengers at the restaurant when Captain Schettino recalled him back to the bridge. The captain told Mr. Onorato "Don't leave me" and he had already put a life jacket over his official uniform.

On the accusation that he had abandoned his ship before the passengers, Captain Francesco Schettino claims that he fell into the lifeboat because he had slipped.