Rough weather conditions lead to fire onboard a vessel in
North Atlantic island
.
Icelandic Coast Guard
rescued 11 crew members of the distressed ship.
The damaged RoRo vessel
MV Fernanda
sent a distress call to the Coast Guard of Iceland at UTC2:00 pm. on Wednesday, reporting that they have encountered an engine fire aboard the ship.
The Icelandic Coast Guard instantly dispatched a helicopter on the scene of the accident that arrived withing 2 hours and rescued all the 11 crew members of the distressed RoRo ship MV Fernanda. All the crew members had little injuries but were transported to the largest city in Iceland, Reykjavik, for medical assistance.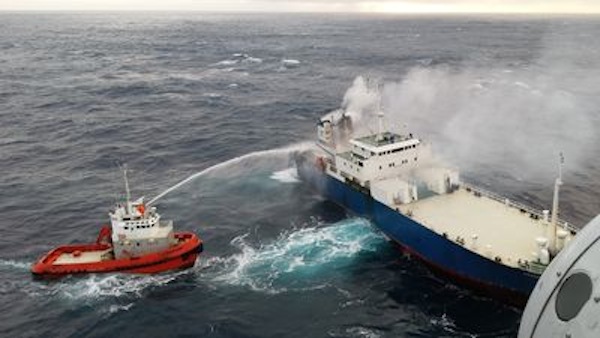 In the meantime, Coast Guard dispatched a firefighting vessel, Thor, to extinguish the fire onboard MV Fernanda.
| | |
| --- | --- |
| Ship Name | MV Fernanda |
| Flag | Dominica |
| Ship type | Ro-Ro Cargo |
| Built | 1981 |
| Size | 75 x 14 m. |
| GT | 2,576 |
| DWT | 1,811 |
According to the report of the Icelandic Coast Guard, the firefighting operation continued through the night and the assessment of the accident was made on the following morning.