On Sunday afternoon a crowded
tourist ferry sank
near
Koh Larn
. The ferry was doing a daily trip from the popular resort
Pataya
, approximately 150 km from Bangkok in southeast direction.
The accident caused
six fatalities
– three Thais, a person from Hong Kong and two unidentified victims. The number of injured passengers is 19 and the other 150-200 onboard were believed to be saved.
According to the police all passengers are found and the Thai divers are searching only the wreck. Colonel Suwarn Chiewnawintawat, the Pattay police chief said:
''We don't expect to find any more dead. One Russian boy is seriously ill in intensive care. The captain ran away. We will issue an arrest warrant for him. Divers will recover the boat today. We still don't know the cause.''

On Sunday, dozen of ambulances were seen on shore. The shocked tourists were examined on the Pattaya's beachfront by the doctors and the injured ones got first aid.

In Thailand the incidents involving public transportation are not rear due to poor safety standards.

Suttipong Boonmachai, a Thai rescue diver, stated for AFP:


''We still don't know the reason for the accident. I am not sure if there are more dead or not, because we don't know how many people were on the boat. Today we are going to recover the boat. We will use underwater detection equipment.''

Witness of the accident was a Thai boat captain. He helped passengers with life jackets and said:


''I saw 100 people, most of them foreigners, in the water. I threw 50 life jackets into the water. There was one man, he was not breathing. We pulled him out of the water.''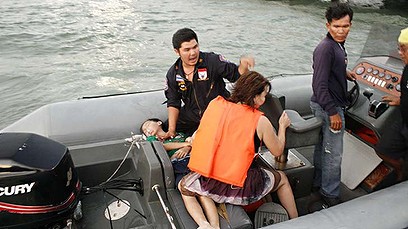 According to the Russian embassy in Bangkok, quoted by Ria Novosti news agency, half of the tourists onboard were Russian. Three of them, including a little child, are seriously injured and had been hospitalized.

In anonymous statement on the Pattaya's main pier, a European, who works in the marine tourism industry, said:


''After an accident like this the boats should be grounded for checks but today they are all running. The boats are very old. There's no maintenance. They are always overcrowded. There's no head count.''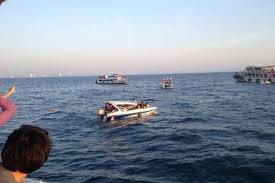 Pattaya is very popular for Russian tourists due to its cheap accommodation, bars and strip clubs. In 2012 the number of tourists who visited Thailand were 22 million, but a series of accidents caused their poor safety reputation. The European Union and China are concerned about their tourists.

A safety issue in the ''Land of Smiles'' are also the devastating floods, crimes against foreign visitors and the political situation in the country.