Two vessels that were pulled by a tug to be scrapped at the yard in Brownsville, Texas alerted the
US Coast Guard
and it intervened together with local emergency teams and squads conducted by the Texas state. The cause for the alert is that one of the ships was
bending dangerously
over the other, threatening to sink it.
The captain of the tug, pulling the ships signalized the men on duty of the Coast Guard Sector Corpus Christi at about 8:00 am on Thursday. The captain asked for their help because one of the ships was bending over the other ship and informed Coast Guard of the location of the tug and the pulled vessels – 2 miles south off the coast of Mansfield Jetties. The Incident Management Team (IMT) of the Coast Guard was alarmed. The team will be supported by local and Texas institutions with all possible kinds of resources, to make exact analysis of the situation and minimize all chances the bending vessel threatens a human life or the ecology.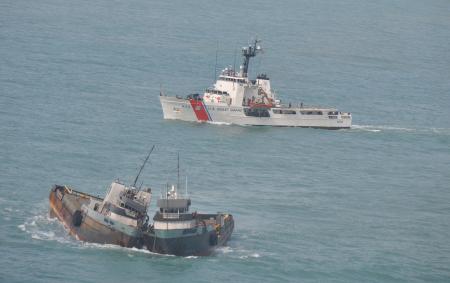 The Coast Guard Cutter "Dauntless" was called to take part in the operations. She will sail along with the tug and the two vessels till they reach the Brownsville port. One more tug was also employed to help in towing the ships to Brownsville.
The 2 towed ships are Offshore Supply Vessels. They are called Ken Tide and Louie Tide, and are about 200 feet long. The ships are moved from Louisiana to be scrapped apart at the Brownsville Port scrap yard. There are no people onboard the Ken Tide and Louie Tide ships.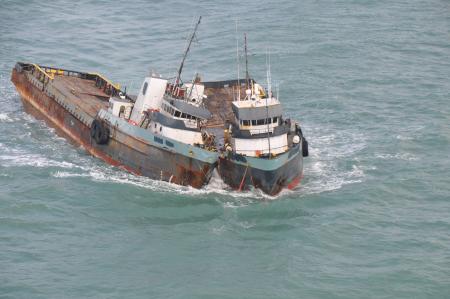 The owner of the vessels was contacted and he had asserted that both ships have no oil supply onboard and therefore there is no ecological hazard. Servants of the Coast Coast Guard are still at the place to explore the case and prevent any further complications.