Michael Vannak Khem Misiewicz
, a
US navy
commander, is accused in passing confidential information on warship routes. The accusation is based on documents saying that commander Misiewicz was conspiring with
Leonard Francis
, ''Far Leonard'', owner of Glenn Defense Marine Asia Ltd. (
GDMA
), based in Singapore.
According to the prosecutors, ''Fat Leonard'' was obtaining secret military information by bribing US navy commanders. The investigations threat more people, even of the highest military ranks. The hearing will be on November 8th.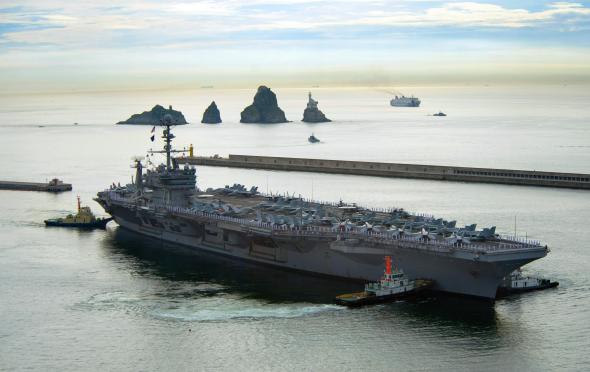 The prosecutors allege that Francis and Misiewicz were diverting destroyers, aircraft carriers and other warships to ports with less supervision in Asia where the Malaysian businessman was able inflating costs by overcharging the Navy for food, service or fuel.

Leonard Francis started with bribing commander Misiewicz with an invitation to his family for ''The Lion King'', a Broadway production with Lady Gaga.
Rear Adm. Terry McKnight, who has already retired, said without any knowledge of the investigation:
It's pretty big when you have one person who can dictate where ships are going to go and being influenced by a contractor. A lot of people are saying, 'How could this happen?'

Francis and Misiewicz have already been arrested together with
Alex Wisidagama
, GDMA general manager of global government contracts and
John Beliveau II
, a senior Navy investigator.
The accusations against the Navy investigator are that he was updating ''Fat Leonard'' on the investigation and was giving him advises how to proceed.
The sentence, if convicted of conspiracy to commit bribery, is up to
five years in jail
.
The arrested pleaded the are innocent, and their lawyers refused to give any statement.
McKnight, who haven't never met Leonard Francis said:
He's a larger-than-life figure. You talk to any captain on any ship that has sailed in the Pacific and they will know exactly who he is.

''Fat Leonard'' is a legend and it is believed that more people are implicated in the scheme. For now, it is known that the court documentation mentions more still unnamed personnel from the Navy.
The Misiewicz's family visited the ''Lion King Production'' with a Francis employee in Tokyo. Later the commander was offered a service from a prostitute.
The production alleges that the employee massaged Francis: ''We got him!''
Few months later, Francis was informed regarding the USS George Washington Carrier Strike Group schedules.