Dutch authorities will appeal at the
International Court
today, to ask from Russia the releasing of 30 arrested remonstrants.
They are charged with hooliganism for their protest against oil drilling in the Arctic on September 18. Two of the
Greenpeace environmentalist activists
are from the Netherlands.
The proceedings will start today, though Russia stated that they did not accept the appeal. Still, the Dutch believe that in Hamburg the International Tribunal for the Law of the Sea (
ITLOS
), will decide in the next two weeks and the demonstrators will be released provisionally.
The ITLOS is working since 1982 and its establishment is set by the Convention on the Law of the Sea, signed both by Russia and the Netherlands. The purpose is to settle any disputes in the maritime area but the court has no ways of enforcing its decisions.
The
Greenpeace International
base is Amsterdam and their General Counsel, Mr. Jasper Teulings said:
We are very grateful to the Dutch government for bringing this case and to the tribunal for considering it. The argument of the Netherlands is that in international waters, ships have the right to freedom of navigation and so this means they may not be boarded, inspected, detained or arrested except with the permission of the flag state. There are exceptions to this, but they are limited.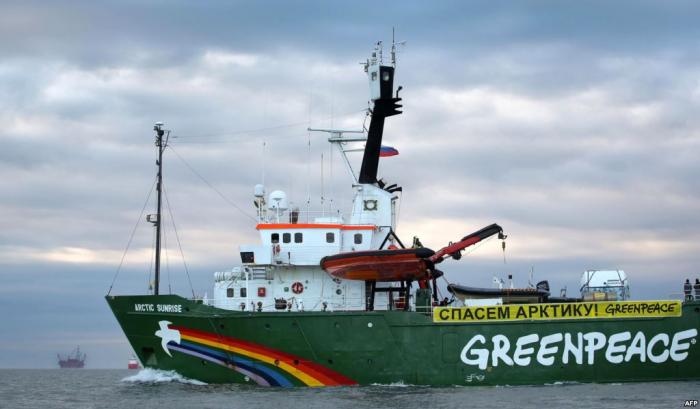 The Dutch authorities also are fighting for the releasing of the Arctic Sunrise, Greenpeace Dutch-flagged ship detained in Russia. Initially, she was accused in hooliganism and even piracy. After an intervention by President Vladimir Putin, the accusations for piracy were removed.

This case escalates tensity between Russia and the Netherlands. In October, senior diplomats from both countries have been attacked in The Hague and Moscow, at their homes.
Yesterday, the foreigner minister of the Netherlands disclaimed the law of Russia. He said that there is a
homosexual ''propaganda''
among the minors and if the gay rights are violated this could be a reason for choosing the Netherlands for asylum.
Last week Dmitry Medvedev, the Russia Prime Minister, blamed the Greenpeace activists in threatening the security of the workers and the environment in Russia.