The mystery of the secret barges of Google in San Francisco Bay, Portland, Maine is provoking curiosity. This secret project of the "search engine giant" was raising questions in the past weeks. U.S. government officials are familiar with the project and both sides signed an agreement for confidentiality.

U.S. Coast Guard employees received instructions not to reveal the truth about the Google barges in San Francisco Bay, Portland, Maine.
Government officials had to do the same. The coast guard was spotted visiting the barges but no for fixing any problem but to investigate the project. Information will be available after the end of the project.

View Larger Map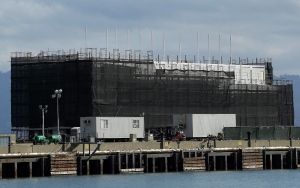 For the moment there are 4 registered barges by Google with the names BAL0001, BAL0010, BAL0011 and BAL0100, moored near the Bay Bridge off Treasure Island, place known for beeing former military base. Antennas were spotted on top of the barges. There are speculations that barges are floating data centre. The 4 barges have registration in a Delaware corporation called By and Large LLC, an apparent nod to the imaginery firm Buy and Large from the famous animation film WALL-E.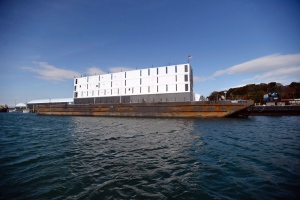 The location of the Google barges is: 2 in San Francisco, 1 in Portland and 1 with unknown location. The company is not saying a word about these shipping-container structures.

The U.S. Coast Guard is aware of the secret project but asked not to reveal information. Reporters made an attempt for a closer look but saw only 63 metal shipping containers welded together on the barge. The whole structure was assembled in New London, Conn.

The project started years ago and details are hidden as usual practice from the companies at Silicon Valley.
The barge is surrounded by fences, security guards and nearby buildings.